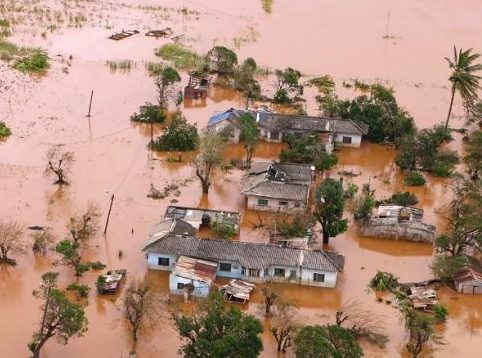 It appears that the "smartest" Blacks in Africa have finally figured out that Whites are artificially creating natural disasters, like killer cyclones, to specifically target Blacks as an ongoing effort to genocide them:
Cyclone Idai, a tropical cyclone which recently hit Mozambique, Zimbabwe, and Malawi is not a natural disaster, but a direct consequence of the white, Western system of ecological assault for profits, said Black First Land First on Friday.

The BLF claimed in a statement that white people were the ones who destroyed the ecological balance through greenhouse gas emissions. As a result, it was only fair that the West paid for it.

"The multitudes that died as a result of the cyclone are not victims of a natural disaster. This is mass murder which could be prevented if the West abandoned its ways.

"Those who pollute and destroy our ecosystems must pay ecological reparations to those who suffer as a consequence of their irresponsible actions. It's no longer speculation – even the white man's own science corroborates what we blacks know: Africa is paying a heavy price for the actions of the white world. The West pollutes and the West must pay."

The party claimed to know about a conspiracy of recolonisation, which in part sought to profit from disasters, which the West would continue doing. It further called for something to be done to stop them from destroying the planet, failure of which would result in the extinction of species.

"BLF calls on the African Union to demand reparations and relief from the European Union and the United States of America for Cyclone Idai. Africa is tired of carrying the burden of the destructive behaviour of the global white system of power and consumption."
African Blacks, who overwhelmingly support communism, learned this type of genocidal paranoia from their jewish overlords who have directed their political parties for the last 100 years.  And like Jews, many Blacks sincerely believe that Whites are born to hate them just for the color of their skin and want to "wipe them off the face of the earth" just like the enemies of the Jews apparently want to do.  In reality, if White wanted to "genocide" either Blacks or Jews, both would have disappeared off the face of the earth a long time ago when Whites had unopposed political power over the entire globe.
Not only that, Blacks, like Jews, tend to project upon Whites the evil intent that is in their own hearts.  The author of this article is South African communist, Andile Mngxitama, who is on record as inciting extreme violence against his White "oppressors", and he justifies his murderous fantasies of cutting up Whites with his machete by claiming that Whites create killer cyclones that magically target innocent Blacks.  Just like murderous Nazis created gas chambers to look like fake shower rooms to trick Jews into going along with their own deaths.  No wonder Jews and Blacks share similar political agendas.