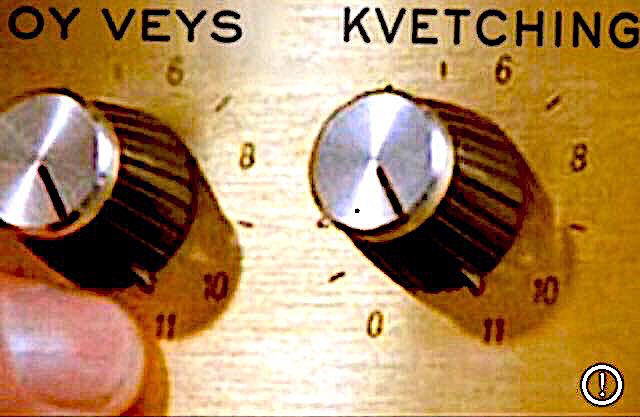 Now that the copyright for The Great Gatsby has expired after 100 years and become public domain, Jews are using the occasion as an excuse to "kvetch" about how insensitive F. Scott Fitzgerald was for including a Jewish gangster as a minor character in this classic of American literature:
…F. Scott Fitzgerald's classic tale of the tainted American dream is sure to lose much of its power as every minor character in West Egg receives an unwarranted, birth-to-death psychological profile. Knowing that's coming, I beg the public: Please take care with Meyer Wolfsheim.

In the novel, Wolfsheim is a shadowy figure of the criminal underworld described as a "small, flat-nosed Jew" with ample nostril hair, tiny eyes and cufflinks made from literal human molars. Likely inspired by racketeer Arnold Rothstein (he claims to have rigged the World Series), Wolfsheim speaks with a heavy Eastern European accent and is implied to be a bootlegger who took Gatsby under his wing.

Kinda problematic, right?

Well, if you trust your high school English teacher, Wolfsheim's obscure presence in the book reveals Nick Carraway's prejudices, or else Fitzgerald's. Still, he can kind of be overlooked. He's an important, but ultimately minor, character with some real world equivalents — though I doubt Rothstein ever wore cufflinks made from freaking human teeth.

With the story's lifted copyright, however, comes what should be an easily resistible urge to plumb one of the novel's most compelling mysteries: How exactly Gatsby got great. If ever a story was clamoring for a more thorough explanation, and needed one less, it's how James Gatz transformed himself from a poor war vet from North Dakota to a sociopathic millionaire. Wolfsheim is the key mentor in that journey, and so will surely feature much more prominently should Baz Luhrmann (with or without a de-aged DiCaprio) take on Gatsby's early days during Prohibition.

So, a word, Baz. Or Ryan Murphy. Or, I don't know, Joyce Carol Oates. When you write Wolfsheim — if you must — maybe don't steer into easy antisemitic tropes of greed and otherness and the usual Svengali stuff. Perhaps a sympathetic, young Don Vito Corleone treatment is in order; we doubt Wolfsheim had an easy time of things when he first came to America. Consult with historians of Jewish immigrant life. Please, please cast a Jew, or at least an Italian, if you're going to have him say things like "gonnegtions." Maybe explain that the cufflinks are actually his kid's baby teeth or something. Yeah, no, actually don't do that. Do away with the cufflinks altogether.

And, if you could have other Jewish characters who aren't secretly manipulating events, baseball or otherwise, that would also be good. Most important, please don't feel compelled to give us "The Rise of Wolfsheim" or any such thing. No one needs to know the details of this guy's shtetl or first tenement apartment.
It is remarkable how ignorant the average Jew is about their own history in America — and not only their involvement in the criminal underworld, but their domination of it.
At the time that Fitzgerald lived and wrote, prior to Hollywood, immigrant Jews had a well-deserved reputation for criminality and the underworld — and if anything, Fitzgerald downplayed it by making Wolfsheim into a minor character.
The Jews of Hollywood have deliberately misled the American public into believing that "Italians" controlled organized crime in America — Francis Ford Coppola's The Godfather was showered with Academy Awards not because it was a great movie but because it firmly associated organized crime with Italians instead of Jews.
Many must-read books on Jewish organized crime have been written — by sympathetic Jewish authors — including Gus Russo's Supermob, Hank Messick's Lansky, and Robert Rockaway's But He Was Good To His Mother: The Lives And Crimes Of Jewish Gangsters.
In the early 20th century, New York City's jails overflowed with Jewish criminals fresh off the boat from eastern Europe who set up shop on the Lower East Side of Manhattan.
In fact, FBI Director J. Edgar Hoover once infamously denied the existence of organized crime in America — not to cover up for the Italians but rather for the Jews, like Meyer Lansky who allegedly had compromising photographs of Hoover's secret life as a homosexual.
The Jewish Purple Gang from Detroit was implicated in the kidnapping and murder of Charles Lindbergh's infant son.
Many of the wealthiest Jewish families today — such as the Annenbergs of Chicago and the Bronfmans of Montreal — got their start in organized crime — and have since then "whitewashed" their unsavory beginnings through "philanthropy".
Even rabbis are up to their eyeballs in organized crime — many of their often-international criminal enterprises operate under the guise of synagogues in every city in America and Europe.
Over time Jews cleaned up their criminality — moving it from Main Street to Wall Street — and then to Tel Aviv where they have established a home base to run their worldwide criminal network under the guise of "Zionism".
And yet they remain so "sensitive" about their public image that they still obsess about a minor literary character who is a choirboy compared to real-life Jewish gangsters like Meyer Lansky and Sidney Korshak.