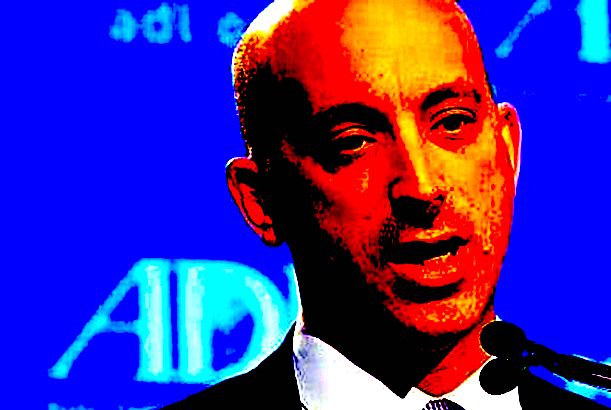 The Anti-Defamation League has "joined with" PayPal to research how "extremists" use financial platforms to fund activity that may oppose Jewish supremacy and support for the state of Israel:
The partnership will focus on "uncovering and disrupting the financial pipelines that support extremist and hate movements" by targeting "actors and networks spreading and profiting from all forms of hate and bigotry," according to an ADL news release published Monday morning.

Their findings will be "shared broadly across the financial industry and with policymakers and law enforcement," according to the release.

The ADL's Center on Extremism will be one of multiple partner organizations in the effort for PayPal, a San Jose company that has become one of the world's largest online payment platforms. The news release also mentions the League of United Latin American Citizens.

The ADL, a nonprofit headquartered in New York City, specializes in combating antisemitism and other forms of hate. The PayPal partnership is the second it has announced in the last week: It also announced a new relationship with the Union of Reform Judaism to launch an antisemitism reporting tool that both the ADL and URJ will monitor. That announcement comes amid criticism from the left that the group too freely identifies criticism of Israel as antisemitism.
Since the ADL has not yet succeeded in pressuring the U.S. Congress to formally make all forms of "antisemitism" illegal and punishable by prison and death when necessary, they are instead going after private financial companies — many of which Jews control — to cut off services to anyone who irritates them.
As the grandfather of Zionism, Theodor Herzl wrote in Der Judenstaat (1896), "When we sink, we become a revolutionary proletariat, the subordinate officers of all revolutionary parties; and at the same time, when we rise, there rises also our terrible power of the purse."
As the Catholic scholar, E. Michael Jones observed, "An antisemite used to be someone who didn't like Jews. Now an antisemite is someone the Jews don't like."
And Jew don't like anyone who criticizes them for any reason — they are above criticism — because all criticism is motivated by "Jew hate" and will therefore lead to "another" Holocaust.
If Christians — in any way — defend their nations against the anti-Christ bolshevization of their families and nations, they are smeared as "antisemites" or "racists" — as if they having done something wrong for defending themselves.
When Jews undermine and destroy everything we hold dear, they call it "tikkun olam" — healing the world — making it safe for the anti-Christ.