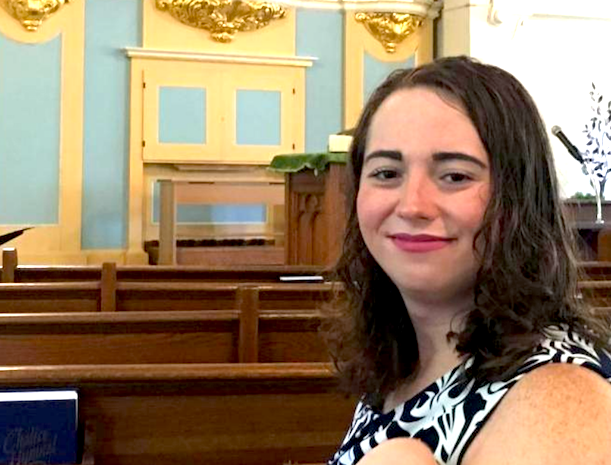 "Erica" Saunders, an openly transgender graduate of the Wake Forest University School of Divinity ordained to the gospel ministry this spring by Wake Forest Baptist Church, began July 1 as pastor of Peace Community Church in Oberlin, Ohio.
Founded in 1866 as the First Baptist Church of Oberlin, the congregation today describes itself as a "small, but active and social action-oriented congregation" that is "very involved" in the Baptist Peace Fellowship of North America, the Association of Welcoming and Affirming Baptists, the Alliance of Baptists and the American Baptist Churches of the Rochester/Genesee Region.

Saunders, who began the process of changing her gender presentation during her first year of seminary, follows the 40-year co-pastorate of Steve and Mary Hammond. Steve Hammond, in his final sermon June 16, reminisced about as a graduating senior in seminary meeting with executive ministers in American Baptist Churches USA who dismissed his doctrinal views as too radical to recommend him to a traditional church.

It all changed, he said, when he had 15 minutes with John Sundquist, at the time executive minister in Ohio who went on to serve as executive director of the Board of International Ministries of American Baptist Churches USA from 1990 to 2003, who told him about "a church crazy enough to take me."

Mary Hammond started out as a pastor's wife shortly after her husband graduated from seminary in 1979 but after six years began serving as co-pastor. She was ordained as a minister in 1988.

The pastoral search committee said in a letter to church members that the group received 16 candidates to replace the couple and narrowed the field to five and eventually down to a final two.

"Both candidates were very strong candidates, but Erica stood out as a candidate with unique strengths," the search team said. "Bright, compassionate, faith-filled and spirit-led with a loving presence, she showed as much interest in each of us as we did in her. At the end of our time together on Sunday, when we formed a circle and said a departing prayer, I think we felt and she felt a sense of calling to our church."

Saunders said in a statement she is "grateful for the gospel witness provided by Peace Community Church."

"With God's help, together we can follow the example of Christ and create a beloved community marked by abiding peace, expansive love and radical justice in Oberlin and beyond," said Saunders, one of the first openly trans individuals to be ordained by a Baptist church in the United States.
This church in Oberlin isn't nearly as "radical" as might first appear, as mainstream denominational churches all across America have become increasingly liberal and apostate for the last 100 years. Instead of separating from the world, Christians have embraced the world and conformed themselves to the ever-changing "values" of the Godless satanic pedophiles who own and rule this material world. Churches used to hide their homosexuals and pedophiles; now they are ordaining and celebrating them.
To be a "Christian" today means to tolerate the intolerable, to embrace everything that God hates and everyone who hates God.
So let's not pretend we are either surprised or outraged at the news that a transgender devil is leading a flock of sheep right down the path to oblivion. It is a sign that if you are truly seeking Christ these days, you probably won't be finding Him any longer in your denominational churches.