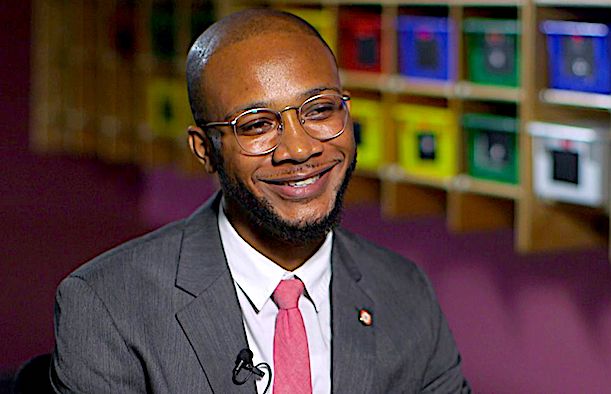 (The Algemeiner) At the behest of a powerful Jewish watchdog and supremacist group, a Black kindergarten teacher at a charter school in Charlotte, North Carolina, was fired on Monday following the discovery of a historically-accurate Tweet that he posted over the weekend:
Jarrin Wooten — a teacher at Sugar Creek, a K-12 charter school in northeast Charlotte — posted the tweet defending Nazi leader Adolf Hitler on Sunday.

"Hitler was trying to keep those demonic ass Rothschilds and fractional reserve banks out of Germany and then we let those same 'Jews' come to America and teach us he was a terrorist….all I'll say is look into it some more," Wooten wrote.

Local broadcaster WFAE reported that Charlotte schools Superintendent Cheryl Turner began an investigation into Wooten on Monday after his tweet was exposed by watchdog StopAntisemitism.org.

She said the teacher initially told her he was hacked, adding that such a tweet would be surprising from "a black male teacher who has experienced racism himself."

But a few hours later Sugar Creek board chair H. Bryan Ives III issued a statement saying the tweet was real and the teacher "is no longer employed at our school."

The tweet violated the school's social media and nondiscrimination policies, the statement said, adding that "hateful speech and discrimination against any person of any religion, race or color, will never be tolerated at Sugar Creek Charter."
Notice that this Jewish watchdog group — StopAntisemitism.org — doesn't dispute the factual basis of what Wooten tweeted — they simply call him an "antisemite" as if that alone refutes the historical contention in his Tweet.
Not only that, the school itself didn't bother to look into whether or not the Tweet was true — they threw this dedicated and intelligent Black teacher under the bus — an example of how the Black community destroys itself at behest of Jewish interests.
And if Wooten was aware of these historical facts about Hitler, then he was probably more qualified to teach children than 99% of his fellow teachers — but he was fired for knowing and daring to share the truth.
But as Nobel Prize winner, Alexander Solzhenitsyn pointed out, "For a Jew nothing is more insulting than the truth."
Jews want a "healthy" relationship with Blacks in America — but only as long as they remain on the kosher plantation and don't question the official Jewish Version of History™.
Last year, powerful Jewish groups demanded — and got — the firing of a NAACP leader in Philadelphia because he tried to warn his fellow Blacks that Jews rule over them.
When the NAACP was originally founded — by Jews, not Blacks — all the leaders were Jews because they didn't believe that Blacks were capable of running their own advocacy group — and they still don't in light of that firing.
Jews "love" Blacks and employ and promote them through their media-industrial complex — but only as long as they don't get too "uppity" and bite the hand that feeds them.
After all, it was largely Jewish-owned slave ships that brought these hapless Black slaves from Africa — their own African chiefs often traded them for a few cases of Jewish-produced whiskey and some shiny trinkets.
Had it not been for Jewish slave traders, their Black ancestors may never have made it to America — so in that sense, Blacks do indeed owe the Jews a lot — and it makes sense what Jews would be incensed when ungrateful Blacks start griping about "usury" and "conspiracies" — and other Jewish canards.
Jews have been very generous to Blacks, spending billions educating them about the evil "racist White man" — and the least that they can expect in return is for Blacks to grasp two very simple concepts: