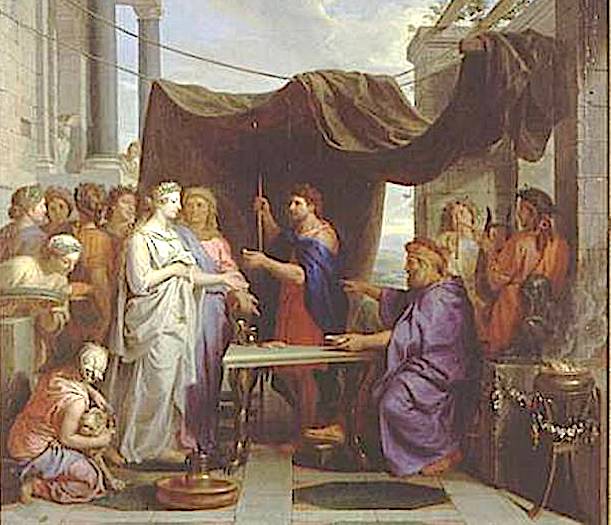 Universalists and racial egalitarians often point out — mistakenly — that Moses married a Black woman from Africa — and therefore, the Israelites did not obey God's command to remain a racially pure people.
These same universalists will often use this example of Moses to support their erroneous contention that Jesus Christ himself was multi-racial, and therefore, not of pure Israelite ancestry.
Here we present Chapter 3 from Charles A. Weisman's book, Is Universalism Of God? — where he shows that Moses' wife was not — and could not have been — a Black African.
Along a similar vein, we previously saw how Weisman demonstrated that the Ethiopian Eunuch in Acts chapter 8 was in all likelihood a white Israelite, not a black African.
Weisman writes:
Did Moses Marry a Black Woman?
A very common argument raised by humanist Christians and Universalists is that Moses had a black or Negro wife. They say that this gives support to interracial marriages since Moses was a man of God — and God did not condemn the union. The verse they base this upon is Numbers 12:1 —
"And Miriam and Aaron spake against Moses because of the Ethiopian woman whom he had married: for he had married an Ethiopian woman."
The point of contention here is not Moses' marriage, but the superior position Moses occupied which brought about the jealousy of Miriam and Aaron. They were merely using the marriage as a pretext to start a campaign against their brother.
Since the term "Ethiopian" is used [here in the misleading English translation], many think it is in reference to the same Ethiopia of modern times in Africa south of Egypt. However, this is a false assessment.
The word "Ethiopian" means "a Cushite, or descendant of Cush" [Strong's Hebrew Dictionary, No. 3569]. Cush is a region named after the patriarch (Genesis 10:6). The original land of Cush was located in Arabia and Mesopotamia — and one who lived in these lands would be called a "Cushite" or "Ethiopian."
Most authorities recognize that the use of "Ethiopian" in Numbers 12 is in reference to "Arabia" [see Matthew Henry, Commentary In One Volume, p. 153] — or to the lower Tigris-Euphrates valley. This was the land designated as Cush in ancient times. Speaking on this verse, one Bible authority states:
"An Ethiopian woman — Heb., a Cushite woman — Arabia was usually called in Scripture the land of Cush — its inhabitants being descendants of that son of Ham."

Jamieson, Fausset & Brown, Commentary on the Whole Bible, Zondervan, vol. 1, p. 104
Concerning the identity of the "Cushite woman," modern writers tend to think of the Cassites, east of Babylonia or — with better justification — of Kusi in North Arabia, mentioned by Esarhaddon of Assyria [see Peake's Commentary on the Bible, Nelson, 1962, p. 259]. Professor Davidson says it may be in reference to "the Cassites, a people north-east of Mesopotamia" (see Davidson, The New Bible Commentary, Eerdman's, p. 177).
The land or country of Cush or Ethiopia was not originally located in Africa, as most Bible scholars acknowledge:
"Cush is connected with Kish — the ancient city-state in lower Babylonia."

Unger's Bible Handbook, Moody Press, 1980, p. 53
"Cush — the name of the territory through which the Gihon River flowed (Genesis 2:13), translated "Ethiopia" by KJV, but in view of the distance of Ethiopia in relation to the Red Aea, the site is probably in SE Babylonia or Chaldea."

The Zondervan Pictorial Bible Dictionary, M.Tenney, 1967, p. 191
In 2 Chronicles 14:9, "Zerah the Ethiopian" refers to a person of "an Arabian tribe" [see The Interpreter's One Volume Commentary on the Bible, 1971, p.215]. In Habakkuk 3:7, the term "Cushan" — which is derived from the word Cush — is identified with "the land of Midian" which is a "region of Arabia" [Strong's Hebrew Dictionary, No 3572].
Since Midian was one of the sons of Cush, some think that the woman referred to may have been Zipporah, who was a Midianite (Exodus 2:21). Others say this was a second wife of Moses from Cush.
Recent researches (especially by Winckler) have made it probable that two districts were known both to the Assyrians and the Hebrews under the same name "Cush." One of them was Ethiopia — while the other was in the West and South of Arabia, not always exactly defined.
Winckler considers that the Arabian "Cush" is meant in the following passages: Gn 2:13, 1:6 ff.; Nu.12:1; II Sa 18:21; II Ch,14:8 ff., 21:16; Is 20:3, 43:3, 45:14; Hab 3:7; Ps 87:4.
[see A New Standard Bible Dictionary, Funk & Wagnalls, 1936, p. 162].
This tells us that the wife of Moses mentioned in Numbers 12 was from the region of southern Mesopotamia or western Arabia, and was thus of the same race as Abraham who was from Ur of the Chaldeans in lower Mesopotamia (Genesis 11:31) — the only region of Cushite people at that time. The Ethiopia in Africa was not actually known or so named at the time of Moses.
"The Ethiopians ruled southwestern Arabia for many years. Cush is mentioned in Genesis 10:8 as the father of Nimrod, whose kingdom began in Babylon, and Erech, Accad, and Calneh, in the land of Shinar. Cush might originally have been an ancient region in Assyria named after Cush, the father of Nimrod. The present Ethiopia was unknown and uninhabited at this time."

George M. Lamsa, Old Testament Light, 1964, p. 15
The original Cushites (Ethiopians) settled in Mesopotamia after the Flood, as did the Shemites. They both helped to form the ancient states of Sumer, Akkad, and Babel. But centuries later some migrated to Africa.
The Greek historian Herodotus (440 B.C.), states that "the Ethiopians came from the region above [north of] Egypt" [see The History of Herodotus, trans., George Rawlinson, Tudor Pub., 1932, bk. VII, p.379]. They came from the Tigris-Euphrates valley and the Sinai Peninsula.
The Cushites established a new settlement in southern Egypt and over time formed a considerable population by mixing with the dark-skinned inhabitants south of Egypt. Thus there were two areas called Cush or Ethiopia — the Arabian Cush, and the African Cush. It is like Boston, Massachusetts being named after Boston, England.
The African Cush in the ancient world became the better known Ethiopia or Cush — and the darker complexion of its people was expressed in the biblical proverb, "Can the Ethiopian change his skin, or the leopard his spots?" (Jeremiah 13:23) .
Some will point out that the Greek term for Ethiopian — Aithiopisse — means dark or dusky, but this is the more modern definition used in reference to people south of Egypt at a latter time period. You cannot apply a more contemporary Greek definition to ancient Hebrew words.
The original word in Numbers 12 is associated with a certain location — Mesopotamia — at a certain time period — 2300-1400 B.C. It is well known that there were no Negroes in this region at this time. Words must be kept in their proper historical context as well as the context of the original subject matter.
Nimrod was an Ethiopian (Cushite) — but certainly was not a Negroid type. Actually, there is a tradition that "Cushite" under Hebrew etymology means "fair of appearance" [see Peake's Commentary on the Bible, Nelson, 1962, p.259]. Ethiopian in the modern Greek, Latin and English languages may have inference to dark or black, but its original Hebrew etymology reveals no connotations of — or connections to — dark, dusky or black.