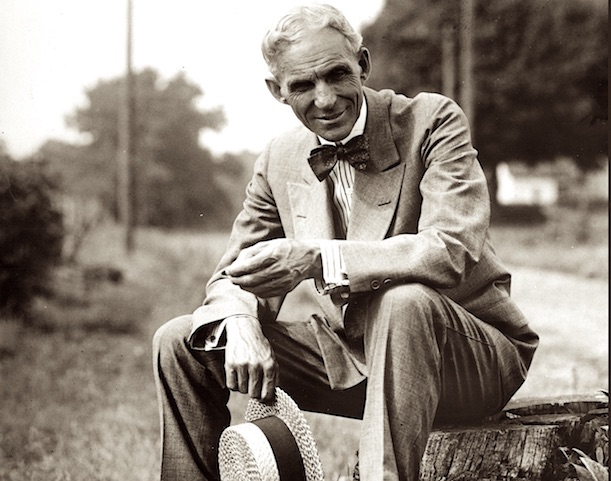 The Jews have been so traumatized by their own Holocaust™ propaganda that a recent seemingly innocuous comment by President Donald Trump has sent Jews into a panic, shrieking about Hitler, genocide, and eugenics:
U.S. President Donald Trump lauded the "good bloodlines" of notorious anti-Semite Henry Ford on Thursday, drawing immediate rebuke from American Jewish groups.

"The company, founded by a man named Henry Ford," Trump said after touring a Ford Motor Company plant in Michigan. "Good bloodlines, good bloodlines. If you believe in that stuff, you got good blood."

Ford is famous for disseminating anti-Semitic writings, including "The International Jew," which was published by the Ford-owned Dearborn Independent newspaper in four volumes.

He also funded the printing of half a million copies of the anti-Semitic hoax "Protocols of the Elders of Zion" in the 1920s. The text blamed Jews for trying to achieve global hegemony and influenced Adolf Hitler.

The head of the Anti-Defamation League Jonathan Greenblatt called on Trump to apologize, noting Ford's famous belief in the genetic superiority of the white race.

"Henry Ford was an anti-Semite and one of America's staunchest proponents of eugenics," Greenblatt tweeted. "The President should apologize."

The Michigan Jewish Democratic Party also criticized the president for his remarks, which it said showed a "breathtaking indifference to the history and the welfare of Michigan's Jews."

"It is no coincidence that Donald Trump has presided over the steepest rise in anti-Semitism in generations," said Noah Arbit, founder and chair of the Michigan Democratic Jewish Caucus, in a statement. "The president is not only an apologist for anti-Semites, but has himself engendered severe hatred of Jews with his rampant conspiratorial, racist, and hateful speech."
And yet despite all of Trump's alleged antisemitism™, his biggest donors are ALL wealthy Jewish supremacists like Sheldon Adelson and Carl Icahn.
No wonder these highly inbred Jews, who, by their own admission, suffer from over 50 different genetic disorders, are extremely sensitive about any talk of "bloodlines".
In fact, one prominent Jewish rabbi has admitted he fears that genetic studies will indeed confirm that Jews "carry genes that are polluting the world."
Perhaps that's why back in the 1920s Jews used their power and influence to block the U.S. Census from finding out how many Jews were in America at that time — a fact that Henry Ford brought to the attention of average Americans.
But along with this plethora of genetic disorders come serious mental disorders in Jews, all of which may account for their delusions of racial superiority and supremacy which they've written about at length in their "holy" book, The Talmud.
And an essential characteristic of this Jewish proclivity toward unfounded delusions of superiority is that they turn around and accuse others — especially White people like Henry Ford — of being racial supremacists.
Jews are often so emotionally and mentally unbalanced (i.e., "sensitive") that they consider any criticism by non-Jews as proof that "another" Holocaust™ could literally happen at any time.
And to collective chagrin of the Jews, Henry Ford wrote a 500-page meticulously documented book demonstrating Jewish supremacy and their crimes against humanity, just as we would expect from someone with such "good bloodlines".