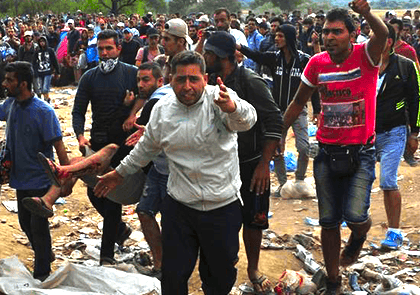 The Dutch will soon change the law so that police can now use DNA tests on evidence from crime scenes that will reveal the skin color of the criminals:
The Dutch police will soon start using DNA found at crime scenes to determine the skin color of the suspect. This technique is now reliable enough that it can be used in investigations, Minister Ferdinand Grapperhaus of Justice and Security announced, NU.nl reports.

The police already use DNA traces to determine whether a suspect is a man or a woman, and what color eyes and hair they probably have. Very light or very dark skin color could also already be established, but the skin colors in between were very difficult. But that changed recently, Grapperhaus wrote in a letter to the Tweede Kamer, the lower house of Dutch parliament.

By using DNA traces to establish a suspect's skin color, the police can draw up a clearer description of the suspect, which could lead to a quicker arrest.

Special forensic detectives will also soon be able to do DNA testing at the crime scene using mobile equipment, Grapperhaus said. For example, a DNA trace found at the scene of a terrorist attack can immediately be recorded, and the laboratory may then be able to immediately identify a suspect.

Grapperhaus is currently working on changing the law to allow these new techniques. Once the law is changed, two police teams will experiment with the new possibilities.
Of course, in the hyper-politically-correct Dutch society, even noticing the skin color of a rapist or murderer is strictly discouraged.  After all, what does someone's skin color have to do with the crime?  And if a victim notices the race of the person who raped them, they must be racist.  So this is a major concession on the part of the Dutch police to acknowledge that skin color might be helpful in identifying and arresting criminals.
But there can be no doubt that once these tests begin to show that 99.9% of all violent criminals arrested have brownish toned skin, these tests may have to be outlawed once again.  After all, if DNA proves that the "color of crime" is brown, then the tests must be wrong, and if they are correct, then they can't be used because the results will hurt the feelings of these violent criminals.  The crime of "racism" is far worse than rape or murder, and racial "equality" is far more important to achieve than arresting a few rapists and murderers.  What a dilemma for the Dutch do-gooders.