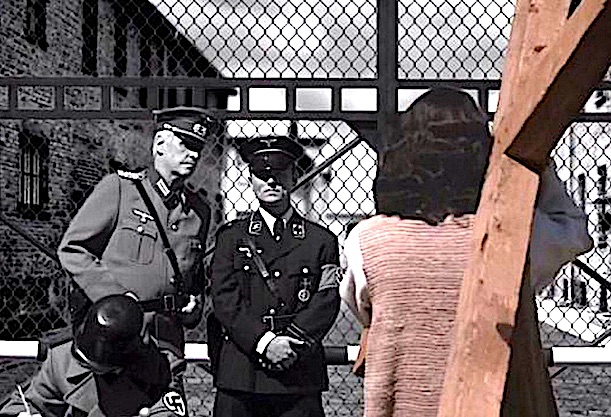 (CODOH.com) Self-help guru, Howard Storm, has made a comfortable living selling books and giving lectures about his "near death experience" while under anesthesia on the operating table during an emergency surgical procedure — during which, he claims, he asked Jesus how God could have allowed the "Holocaust" to happen:
"I asked how God could let the Holocaust of World War II happen. We were transported to a railway station as a long train of freight cars was being unloaded of its human cargo. The guards were screaming and beating the people into submission. The people were Jewish men, women, and children.

Exhausted from hunger and thirst, they were totally disoriented from the ordeal of being rounded up and sent on a long journey to an unknown destination. They believed that they were going to work camps, and that their submission to the brutality of the guards was the only way to survive.

We went to the area where the selection process was taking place and heard the guards talking about 'the Angel Maker.' We went to the place the guards were referring to as 'the Angel Maker,' which was a series of ovens. I saw piles of naked corpses being loaded into the ovens, and I began to cry. Jesus said to me, 'These are the people God loves.' Then he said, 'Look up.'

Rising out of the smoke of the chimneys, I saw hundreds of people being met by thousands of angels taking them up into the sky. There was great joy in the faces of the people, and there appeared to be no trace of a memory of the horrendous suffering they had just endured. How ironic that the guards sarcastically called the ovens 'the Angel Maker.'"
If Howard Storm had really met Jesus, he would have been shocked to find out that what he'd learned about the "Holocaust" from movies, books, and television shows was false — so we can safely conclude that Howards "NDE" was probably no more than an anathesia-induced anxiety-laden dream.
In fact, what Howard claimed he "saw" in his encounter with Jesus sounds a lot like scenes out of "Schindler's List" or some other Hollywood propaganda film.
So the idea that Jesus validate this massive anti-German Allied propaganda campaign is simply beyond all credibility — the Jews may have duped most of the "gentiles" and their fellow Jews about the "Holocaust," but they didn't fool God — though given their chutzpah, they probably think they have.
And doesn't it seem rather odd that of all the things that Howard Storm could have asked Jesus upon meeting Him, why did he think to question God about His intention behind allowing the "Holocaust" to happen?
Perhaps, subconsciously, Howard, like the rest of us, knows something just doesn't add up about all the "Holocaust" tall tales — and He wanted to find out what really happened directly from God.
Howard Storm's 2005 book, My Descent Into Death, was published by Random House — a major Jewish publisher — and the fact that Jesus confirmed the "truth" of the "Holocaust during Howard's "near death experience" may have contributed to their decision to publish his book and promote it so heavily.
You can listen to Howard Strom describe this "Holocaust" encounter with Jesus in this video beginning around the 58:00 minute mark: