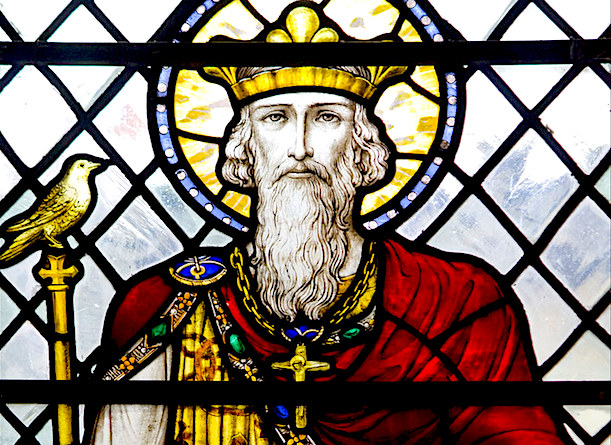 While many people today claim that massive Muslim immigration is destroying England, they are completely ignorant of the fact that three hundred years ago their ancestors believed that allowing Jews to be readmitted to England after having been banned since their expulsion in 1290 would surely do irreparable damage to the Christian nation.
In 1940, an important essay was published entitled, "How Jewry Turned England Into A Plutocratic State," which cites many contemporary 18th century sources, including speeches in Parliament, debating the issue of jewish immigration.  Of course, because the wealthy jewish merchants lavishly bribed key members of Parliament, there was never any doubt as to the passage of the Naturalization Bill, despite vociferous objections across England.
Three centuries later, all of their objections have been vindicated and their fears realized.  Wealthy Jews have indeed replaced the ethnic British aristocracy and now have England in a complete stranglehold.  England stopped being a Christian nation when it allowed Jews into the realm, officially making it "multicultural" for the first time.  And when it stopped being Christian, its fate was sealed.
Today's Muslim invasion is merely an inevitable consequence of the jewish invasion three hundred years ago.  We ignored the warnings then, and now we are reaping what we have sown, literally incurring the "resentment of Almighty God" for allowing them in:
Excerpt:
The actual leader of the anti-Jew party and leader of the Opposition in the House of Commons, Sir John Barnard, an enemy of Sampson Gideon and his Jewish clique, and impugner of the Walpolian corruption, also made a remarkable speech in the House of Commons against the Naturalization Bill on May 7, 1753, from which we give a few interesting extracts:

"The Jews, Sir, are, and always have been, the most professed enemies to Christianity, and the greatest revilers of Christ Himself: They are the off-springs of those that crucified our Saviour, and to this day labour under the curse pronounced against them upon that account. I know, Sir, that, as a Christian, I am obliged to love my enemy; but whilst he continues to be so, no precept of Christianity enjoins me to take him under my roof, much less to put him in a way of making himself the master of both me and my roof; and how the hon. gentleman who spoke last, could imagine, that the possession of a land estate should have an influence upon a man's religious principles, I cannot comprehend…"

"As landowners they will be choosing most of the members of this House, and may themselves be chosen. Whatever some gentlemen may think, if we consider their numbers, and the vast estates they have acquired in this kingdom within these last 50 or 60 years, this will appear to be no chimerical apprehension".

…The steamroller methods used by the English Parliament with regards to the Naturalization Bill led to a national disturbance in England in the 18th Century. In London and the Counties resentment made itself felt through pamphlets, petitions from trade fraternities, petitions from judges, mayors and councillors to their respective members of Parliament, both to the House of Commons and the House of Lords.

The English people saw through the Jew's game and recognized the fact that their Prime Minister was open to bribes. Demonstrations against the Naturalization Bill took place in the streets of London.

The clergy were attacked on account of their pro-Jewish attitude. The whole of the English press expressed itself in articles against the law, which was directed against the interest of the English nation.

From the series of anti-Jewish petitions to politicians and members of Parliament there are three worthy of being mentioned: A petition of the Grand Jury of the County of Essex, dated August15, 1753, addressed to Sir John Abdy and the County Sheriff William. Harvey, Esq.; another petition addressed to Sir Robert Long and Edward Popham. Representatives for the County ofWilts, at the Summer Assizes at Salisbury, dated August 2, 1753; and a third petition from the town of Reading.

The second petition appeared in the "London Evening Post" and in the "Country Newspapers" as well as in the "Gentlemen's Magazine".

From these petitions of the Sheriffs and the Grand Council of the County of Wilts we give the following extracts:

"It's surprising that any man who calls himself a Christian, should be so fond of naturalizing these Jews, who are the only avowed enemies to the Christian religion. The Heathens are infidels from ignorance: but the Jews are so from their obstinacy and perverseness: They were the people who crucified our blessed Saviour, and have, ever since that time, been the most violent persecutors of all those who believe in him and his doctrine: These are the people on whom God has entailed the most dreadful of curses: The prophecies relating to them have been verified, their temple destroyed; they have been dispersed over the face of the whole earth, and are, at this day, wanderers and vagabonds, having no settled habitation in the world: What then can we expect, if we do all in our power to defeat those prophesies, to take off this curse? May we not with reason, apprehend that we shall draw upon ourselves the resentment of Almighty God for our endeavours to establish the body politic of the Jews, in the same manner as Julian the Apostle did for his presumption, in attempting to rebuild the temple in Jerusalem?

The inveterate enmity of Jews to Christians, their incorrigible insolence in every dawning of prosperity, their violence, usuries and oppressions practiced in former times, in Germany, France,Spain, Portugal, and here in England, afford us sufficient grounds to apprehend their return to the same diabolical practices of their forefathers. Their admission among us, we foresee, will be attended with riot and confusion: Let us not so generate from our ancestors, as to take these serpents into our bosoms; but let us rather exert ourselves as true Christians and true Britons, to defend our laws, religion, and liberties, from being trampled upon by Jewish or foreign tyranny."

In the petition of the Grand Jury of the county of Essex we find the following:

"The Jews have been zealous persecutors of Christianity from its infancy; and, where their power fell short of their malice, their instigations have prevailed on those, to whom their sceptre was departed, to execute their most wicked purpose: their inveteracy to Christians, of all denominations still continues."

Above from "The Gentleman's Magazine, and Historical Chronicle", Vol. XX11I, of 1753, showing a portion of the petition from the Sheriff and the Grand Jury to Sir Robert Long, and Edward Popham, Esq., Representatives of the County of Wilts and the Grand Jury of the County of Essex to Sir John Abdy, Bart., and Wm.Harvey, Esq., Knights of the Shire.

"They stand branded in history with being rebellious subjects, faithless allies, and treacherous vassals; with pillaging provinces and kingdoms, where they have been farmers of the revenues; with being insolent on the least prosperity, and vindictive under chastisement. They became justly odious to this nation in former times, by diminishing and altering our coin, by their extortions, usuries, and enormous crimes.

These considerations, gentlemen, added to their horrid blasphemies, too shocking to repeat; their vices and immoralities, too many to be enumerated, have moved us earnestly to decline, you will use your utmost efforts to procure a speedy repeal of the act in favour of the Jew or, if that cannot be effected, to prevent its progress and consequences, as the properest means of preserving our religious and civil establishment, and continuing the tranquility we have enjoyed under the government of our most gracious sovereign."
The full PDF can be found here:
How Jewry Turned England Into a Plutocratic State