(Vanity Fair) After Joe McCarthy and the House Un-American Activities Committee showed America that Hollywood was up to its eyeballs in communist subversives, the U.S. Senate formed the Kefauver Committee in 1951 to investigate inter-state organized crime — which was dominated by a nexus of notorious Jewish and Italian gangsters.
The traveling Kefauver Committee hearings — which took place in 14 different cities — became an immediate cause célèbre and introduced average Americans to real-life gangsters on their weekly newsreels — like Mickey Cohen, Frank Costello, Meyer Lansky, and America's favorite sharp-tongued mob "moll" Virginia Hill — Bugsy Siegel's "girlfriend" at one time.
Americans followed the sensational hearings so closely that the head of the investigative committee — U.S. Senator Estes Kefauver — became a national celebrity and even appeared on the popular game show What's My Line? in May of 1951.
After getting off to a roaring start in May of 1950, by October of that same year, after subpoenaed Chicago-based "supermob" attorney and "fixer" Sidney Korshak, personally met with Kefauver, the committee seemed to lose some of its steam — and by April 30, 1951 Senator Kefauver had resigned — and his replacement disbanded the committee by September of 1951.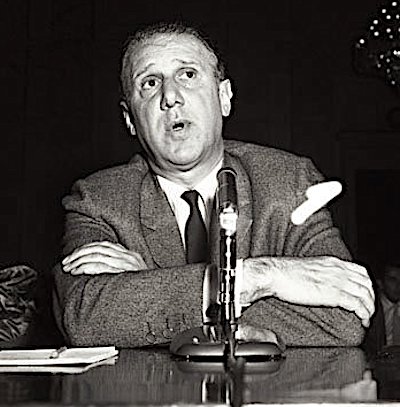 A 1997 Vanity Fair article "The Man Who Kept The Secrets" gives the real reason Sidney Korshak was never compelled to testify — and why Kefauver resigned after treating Korshak and his close associates with kid gloves — and why the Kefauver Committee "completed" its investigation of this vast, organized criminal conspiracy in America in such a short amount of time:
Korshak himself was subpoenaed by the Kefauver committee on September 1, 1950. Curiously, however, he was never called as a witness. Curiously again, on October 26 he ostensibly took it upon himself to come forward, telling reporters, in the words of the Tribune, that he "appeared voluntarily before the investigators to clarify allegations which appeared in a recent [Colliers] article," and that he "told George S. Robinson, committee investigator, that Velie's magazine story was a 'series of diabolical lies' and that Velie was a 'journalistic faker and unmitigated liar.'"

It is curious yet again that no record or transcript of Korshak's meeting with the Kefauver committee exists among the voluminous documents relating to its Chicago investigations. This may have been because, as he claimed, he "appeared voluntarily" and thus, by conditional agreement, his words were to be treated as wholly off the record. Then again, it may be true, as has been asserted, that the real purpose of Korshak's meeting was blackmail.

As reported many years later by Seymour Hersh of The New York Times, "One trusted Korshak friend and business associate recalled in an interview that shortly after the committee's visit Mr. Korshak had shown him infrared photographs of Senator Kefauver in an obviously compromising position with a young woman." According to Hersh's source, "A woman had been supplied by the Chicago underworld and a camera had been planted in the Senator's room at the Drake Hotel to photograph her with Mr. Kefauver."
Not surprisingly, the luxurious Drake Hotel was part of the Meyer Lansky-controlled Kirkeby hotel constortium, which counted Sidney Korshak as a shareholder. Korshak's "trusted friend" and unnamed informant cited in this Vanity Fair article was later identified in Gus Russo's book on Korshak, Supermob:
The source who was shown the photos turned out to be none other than [wealthy department store tycoon and Korshak client] Joel Goldblatt, who, by the time he was approached by [Seymor] Hersh, had had a falling-out with his pal Sidney over Sidney's standing up for Joel's ex, Lynne Walker Goldblatt, in their divorce proceedings…

It is now understood that Kefauver was enticed to the Drake, where two young women from the Outfit's Chez Paree nightclub entertained him. "The Outfit guy at the Drake, a vice cop who moonlighted as the hotel's head of security," a friend of the Korshak family recently divulged. "Korshak got the girls; the security guard set up an infrared camera and delivered the prints to Korshak."

…[A] private meeting was arranged between Kefauver and Korshak. In the brief encounter, Korshak flung the incriminating photos on Kefauver's desk, "How, how far do you want to go with this?" Korshak asked. Kefauver never called Korshak to testify before the committee, despite being the first of 800 witnessed subpoenaed. (pp.120-21)
Setting up Kefauver for blackmail was a relatively easy operation for Korshak — long-married father of four, Kefauver was a notorious heavy drinker and womanizer who allegedly once yelled, "I gotta f**k!" on the way out of a bus after a campaign trip. According to one FBI source, Kefauver "made love in plain view" with his "date" at a Mayflower Hotel party, only to trade women with JFK afterward.
Despite having been blackmailed by Korshak, apparently Kefauver didn't change his rakish behavior at all — and he used his newly acquired celebrity status from the Mob hearings to propel him to two subsequent runs for president in 1952 and 1956 — campaigns where he famously donned a folksy coonskin cap to sell himself to national voters as the second coming of fellow Tennessean, Daniel Boone .
Perhaps Kefauver believed that the fact he had so many skeletons in his closet actually made him a more attractive political candidate to deep-pocketed, mob-connected donors looking for frontmen they could easily control.
Kefauver died of a heart attack in office in August of 1963, leaving his widow Nancy to pay off many of the debts he had accrued. Perhaps JFK took pity on the financially-strapped widow who had endured years of her husband's drinking and womanizing — which JFK himself had witnessed and participated in.
In November 1963, President Kennedy gave Nancy Kefauver a much-needed job as the first head of the new Art in Embassies Program — his last presidential appointment before his assassination. Mrs. Kefauver never considered remarrying — once remarking that she "had too perfect a marriage."