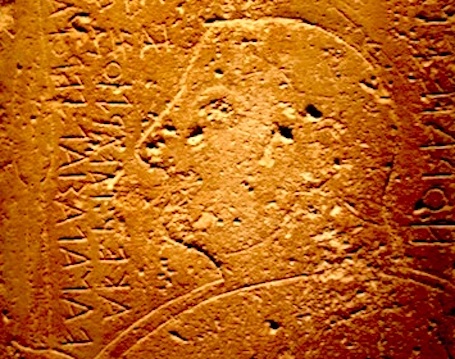 (Daily Wales) In the late 19th century, archeologists working in the Middle East found ancient inscriptions carved in rocks that had striking similarities to the "modern" Welsh/Cymraeg language — and two independent Welsh historians have discovered the explanation for this remarkable "coincidence":
For over 35 years, historians Alan Wilson and Baram Blackett have been making the case for the real history of the Britons to be taught and studied, fighting against what they describe as a London establishment obsessed with stopping the true history of Britain from being divulged.

Mr Wilson states that the known recorded history of Britain starts in and around 1500 -1350 BC, possibly earlier, with large scale migration into Europe and Britain from ancient Mesopotamia (corresponding to modern-day Iraq and Kuwait, north eastern Syria and parts of Turkey and Iran) and a later mass migration from around 500BC of those descended from both the lost tribes of Israel and those descended from the besieged city of Troy in what is now western Turkey.

These are believed to have traveled to Britain via northern Italy and the European continent. To add to this, Welsh history such as that found in the chronicle of the early Britons 'Brut y Bryttaniait' (often referred to as 'Tysilio Chronicles') clearly states that Brutus of Troy and his vast army landed in Britain from around 1170 BC and became the first known King of the Britons, starting what is the true Royal Brythonic dynasty of Britain.

Wilson and Blackett are also renowned for their huge body of research on Brenin Arthur /King Arthur and state that two Arthurs existed: King Arthur I who died in 400 AD and King Arthur II who died in 579AD.

The Ten Tribes of Israel (which later included two other assimilated tribes from Judea) were known to the Assyrian Emperors as the Khumry – a name too close to our modern day Cymry/Cymru to be a fleeting coincidence.

It's also claimed that the Khumry tribes brought Arch y Cyfamod – the Ark of the Covenant – with them after King Jehoash removed it from Jerusalem circa 790 BC and that the Ark has been in Wales since 500 BC. Y Greal Sanctaidd/ Holy Grail is said to include the Ten Commandments inscribed on the two stone tablets placed in the Ark by Moses.

The original lost Ten Tribes, up to two million strong, never got lost; they cultivated the European continent giving birth to European civilisation, using Prydain/Britain as their base and going on to inhabit North America, Canada, Argentina, Australia and New Zealand in large numbers in recent centuries.

Vernacularly known in modern history texts as Celts, the language connecting all these people is described as being the language of the Khumric tribes – the indigenous British language of Cymraeg/Welsh.

Being the the original language of all of Britain, the Welsh language of the Khumry is part of a heritage that belongs to all modern day UK state citizens, be they from Wales, England, Cornwall or Scotland or Northern Ireland.

The Republic of Ireland and the crown dependencies of the Isle of Man, Jersey and Guernsey also have an obvious interest in this shared heritage as do most Europeans and a massive amount of modern day North Americans, Canadians, Australians, Argentinians and New Zealanders.
It's worth noting that Wilson and Blackett have had serious threats made on their lives, including a fire bombing of their house.
Obviously, their research is very threatening to the "official" court historians who have a vested interest in these facts not becoming known to the general public.
Who would want these two historians dead, you may ask?
The answer is revealed in the manner in which they have been attacked — significantly, they have been accused of being "antisemitic". 
Since they don't discuss Jews per se, how could this be?
The answer is simple–the Jews claim to be the only living descendants of the Lost Tribes of Israel, but if Wilson's research is correct, it shows that the mythology of the Jews is a lie, and that their special claim as "God's chosen people" must be seriously questioned and rejected.
Exposing this lie would also confirm the warning of Revelation 2:9,
"I know the blasphemy of them which say they are Jews, and are not, but are the synagogue of Satan."
And maintaining that myth is so important to jewish power in the world today that killing two obscure, independent historians in Wales is perhaps just business as usual for them.
If Wilson's research is true, the entire history of Europe — and its relationship to the Middle East — must change.