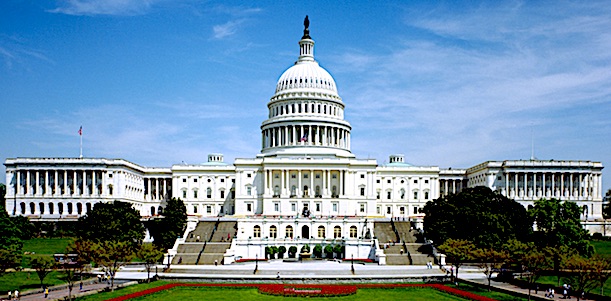 Virtually scrubbed from the internet and "disappeared" down the proverbial memory hole is the story about Israel Rabinowits, a Jewish-Israeli suicide bomber who, on October 18th, 1983, successfully got past metal detectors at the security checkpoints at the U.S. Capitol and entered the spectators gallery of the U.S. House of Representatives, where he attempted to blow up the building before he was subdued by security.
The Associated Press ran the following archived story about this 'minor' incident about a 'lapse in security' at the U.S. Capitol:
The Capitol police re-adjusted metal detectors and installed sensitive bomb-detecting equipment last month after a tourist entered the House gallery with a homemade bomb under his shirt.

Jack Russ, the sergeant-at-arms of the House, said today that the urgent steps following the Oct. 18 scare were the beginning of a tighter security system.

In an interview, Mr. Russ said the bomb taken into the building "was not a dud." It failed to explode because the man "had not placed his wiring properly," he said.

If the new detection devices and metal detector settings had been in place Oct. 18, he added, the man "would not have been able to get in the front doors," adding that "I think we'll have the state of the art" in security measures when the changes were made.

The Capitol Police said the man arrested in the gallery was Israel Rabinowits, a 22-year-old Israeli who threatened to blow up the Capitol when approached by the police. His court-appointed lawyer, Carl Angelis, told a hearing in the District of Columbia Superior Court that Mr. Rabinowits wanted to address Congress about world hunger.

Mr. Rabinowits was charged with making threats of bodily harm, a charge that carries a maximum 20 -year prison term and a $5,000 fine. He was held when he failed to make bond of $25,000.

Mr. Russ said Mr. Rubinowits had under his clothes two plastic one-liter bottles wrapped in cardboard, strapped to his body with a rope and wrapped in a white cloth bag. The thin copper wire attached to the bottles did not set off a metal detector outside the gallery entrance.

The bottles contained black powder, a flammable liquid of unknown composition, glass, stones, ceramic tile and metal fragments, Mr. Russ said. The man carried several typed pages with diagrams entitled, "How I Made the Bomb," instructions that were "technically correct," Mr. Russ added.

The device was taken to the Fort Belvoir in suburban Virginia and was exploded.

Mr. Russ said preliminary estimates indicated that the blast could have had the force of two to five sticks of dynamite, enough to injure "quite a few people."

As the House was voting on establishing a medal to commemorate Vietnam veterans, the man got up, walked to the front rail of gallery and pulled out the device.

Mr. Russ said that Mr. Rabinowits was flicking a switch on a battery when four plainclothes officers closed in. "Stop or I will blow it up," Mr. Rabinowits yelled before he could be subdued.

Congress has metal detectors outside each gallery entrance, but on Oct. 18, Mr. Russ said, the machines were calibrated to pick up such items as guns, knives and large belt buckles.

"We have made them more sensitive," he said. "We have made significant changes and we intend to make more."

[A follow-up article appeared three years later in a small Pennsylvania newspaper, the Titusville Herald, reporting that Rabinowits had been quietly deported back to Israel after charges were dropped in the U.S. without explanation.]
As we previously reported, Rabinowits isn't the only Jew who seriously planned to blow up targets in Washington, D.C.  Last year, Paul Rosenfeld was arrested and found to have a 200 pound bomb he planned to use in an unhinged political plot.
But because these mad bombers are Jews, the jewish-dominated media virtually ignores these stories, and jewish-owned Google ensures that search results return virtually nothing about these two psychotic fanatics.
America must be kept in the dark about the long list of Jews involved in the pleomorphic Ararchist movement in America which has morphed into Antifa among other identities.
According to the 'trusted' ADL and SPLC, the real 'threat' to America is 'White supremacism', regardless of the mountains of evidence that it's jewish-promoted diversity and its related radicalism that's the greatest threat.
And like Jeffrey Epstein, no doubt Israel Rabinowits is now living quite comfortably in Israel today, receiving generous "Holocaust" reparations from Germany, or from the U.S. taxpayers via billions in U.S. 'aid' that impoverished Israel receives annually.
One has to wonder how many Israel Rabinowits's and Paul Rosenfelds are out there plotting to destroy America?  Or would that question be "too antisemitic" to even ask?