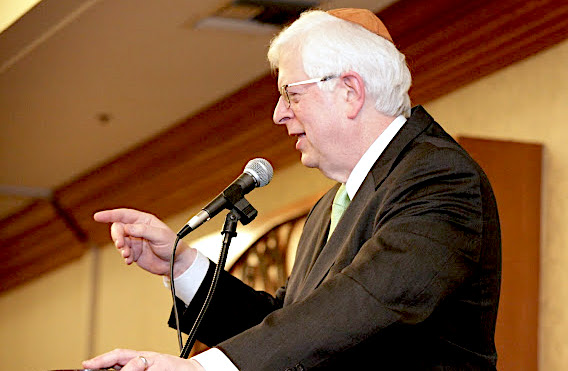 During a recent lecture in front of hundreds of Christian conservatives gathered for the annual "Road to Majority Conference" hosted by the evangelical grassroots organization Faith & Freedom Coalition, jewish 'conservative' and arch-Zionist Dennis Prager insisted that Adam in the Book of Genesis had no racial identity:
Prager, who has long criticized the leftward push in the Democrat Party, shared for the hundreds in attendance at the Omni Shoreham Hotel key distinctions between traditional "liberals" of the past and "leftists" who are pushing a far-left political agenda today.

It's a distinction that, he says, is "both intellectually honest and effective." He urged attendees to go home and ask their own Democrat friends and family members whether they are liberals or leftists.

One difference between liberals and leftists, he said, can be found when it comes to issues of race.

"One of the basic liberal doctrines … was racial integration," Prager said. "Racial segregation was [universally] regarded as evil. Racial segregation was something for bigots. That is correct. It was. [But] it's returned."

He noted that today, "leftists" support racial segregation "as much as they did in the deep South in the 1950s."

While that might seem like an outlandish statement, Prager pointed to certain trends emerging on college campuses in the U.S.

Prestigious institutions like Harvard University have begun holding voluntary all-black graduation ceremonies, while some institutions have even created voluntary all-black dormitory options.

As The College Fix reported in May, more than 75 private and public colleges nationwide are now holding voluntary all-black graduation ceremonies in addition to their regular graduation services.

These ceremonies are part of a trend that the politically conservative National Association of Scholars calls "neo-segregation."

"If you are against a black dormitory, you are considered racist," Prager told the crowd.

Prager said that another example is when the University of California told its faculty and staff in a microaggression training guide that making statements such as "there is only one race: the human race" is a microaggression.

"[Its a microagression] If you just say there is only one race — the human race — but that is exactly what everyone in this room believes," Prager stressed. "I believe on religious grounds that God created Adam. Adam was not black. Adam was not white. Adam was not Asian. Adam was not Hispanic."

"We are all descended from a non-ethnic, non-race descriptive human being," he continued. "All of us."

Some think racial diversity began after the Genesis Flood, which some believe killed everyone on Earth except Noah, his wife, and three sons.
Jews like Prager have a habit of projecting their own corrupt natures upon the world so that it can reflect that corruption back at them, and so is the case with Adam.  Jews are mixed race, as jewish identity is dependent only on the mother being a racial Jew, while the father can be any race whatsoever.  DNA and blood studies confirm that Jews are, in fact, racially mixed.  So it's only natural that someone like Prager, who follows traditional jewish Talmudic teachings on the Bible, would make the preposterous claim that Adam had no racial identity.
Of course, if Adam had no racial identity, then none of his descendants had racial identity, and therefore no people today have real racial identities, most importantly the White race.  Prager is essentially repeating the standard jewish lie that race, like gender, is merely a "social construct".  Just like it's impossible to get life from non-life, we cannot get race from "non-race".  This is the kind of jewish nonsense that Christians get subjected to when they allow 'conservative' Jews like Dennis Prager lecture them on the Bible.  Jews are not the "spiritual elders" of Christians; rather, they are seducers and corrupters, merely wolves in sheeps' clothing.