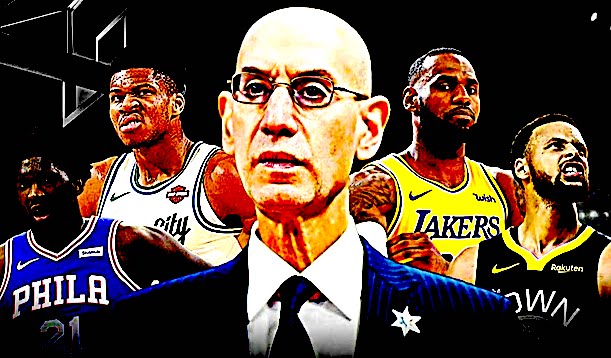 The NBA has fined one of its last remaining White players — the Miami Heat's Meyers Leonard — $50,000 two days after he was caught saying "kike" during a video game stream in the privacy of his own home:
NBA commissioner Adam Silver, who is Jewish, said Leonard spoke Wednesday with Anti-Defamation League officials, the Associated Press reported, "to better understand the impact of his words.

"We accept that he is genuinely remorseful," Silver added on Thursday.

After the video clip circulated widely on social media, Leonard apologized to the Jewish community and specifically to the Heat's Jewish owner Micky Arison.  He said that he was ignorant of what the word meant.

Leonard is already missing the rest of this season with a shoulder injury but has also been placed on an indefinite leave of absence. He is officially suspended for one week of team activities and will also be forced to participate in a "cultural diversity program."

"We have further communicated to Meyers that derogatory comments like this will not be tolerated and that he will be expected to uphold the core values of our league — equality, tolerance, inclusion and respect — at all times moving forward," Silver said in a statement.

Jewish NFL star Julian Edelman posted an open letter to Leonard on social media on Wednesday, saying "casual ignorance" can be more dangerous than hate and inviting him to a Shabbat dinner.
Basically well over 50% of the owners of the 30 NBA teams are Jewish — which is remarkable, considering that Jews are only 2% of the population.
And what's their explanation of why there are so many Jewish owners in the NBA?  "Jews love basketball."  How much more banal could it be than that?
For the last 75 years, the NBA has had Jewish commissioners for all but 20 of those years — and since the league has become almost exclusively Black, the commissioners have all been Jewish.
As billionaire Mike Bloomberg once admitted, his idea of "equality" is an all-black basketball team coached by a Jew.
The NBA's biggest star player, LeBron James, once compared the league's largely Jewish owners to slavemasters:
'In the NFL they got a bunch of old white men owning teams and they got that slave mentality,' James said. 'And it's like, 'This is my team. You do what the f— I tell y'all to do. Or we get rid of y'all.'
But LeBron James went even further than making a racist statement about "old white men," he said the following in a 2018 Instagram post:
"We been getting that Jewish money. Everything is Kosher."
Jewish talking heads at ESPN were quick to defend LeBron James' "antisemitic" comments — because LeBron is Black, and because LeBron is the biggest cash cow for the Jewish owners of the NBA — and they aren't going to be "offended" by LeBron because it doesn't pay to be offended in this case.
Leaving aside the absurd notion that Blacks who make tens of millions of dollars per year to play a game are suffering under a form of "slavery", it's worth noting that Jews did dominate the trans-Atlantic slave trade — and Jews in the American South were far more likely to own slaves than the White Christian population at large.
In that sense, the same dynamic is still in effect — Jews still control Blacks, and they still do "keep them on the plantation" — politically and economically.
Any Black celebrity who steps out of line — and gets "uppity" toward their Jewish handlers — will be required to sit down with a rabbi and learn about the "Holocaust" — and convince their Jewish overlords that they are "truly remorseful" — i.e., truly "denazified".
Indeed, the NBA is a microcosm of the Jewish vision for their ideal America — millionaire Blacks and mulattoes working for Jewish oligarchs — with a few White waterboys thrown in to make sure Whites feel penitent and grateful — the Kaligeri Plan in action.
By fining this White player $50,000, the Jewish NBA — and the Jewish oligarchy at large — is sending a clear warning to White America at large — the word "kike" is the moral equivalent of "nigger" — and if you are "caught" using it even in jest, the gulag awaits — or better yet, the death penalty.