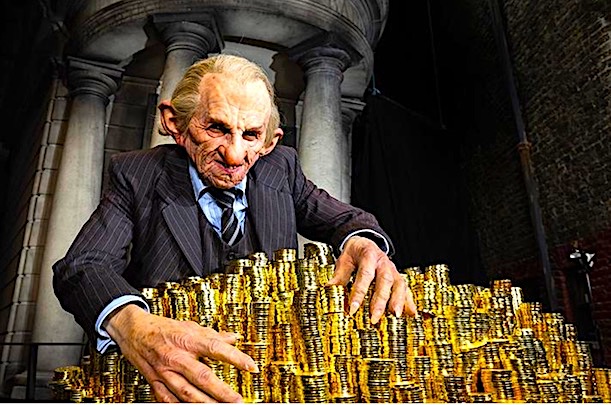 Jews fear that because they are so closely associated with "greedy banker" stereotypes that a character in the new "Harry Potter" movie could subliminally turn children into "Hitler Youth":
It is not often that I am stopped in my tracks. But the press photography from the new Gringotts wing of Warner Bros' Harry Potter Studio tour positively shrieked with antisemitic tropes; the long-nosed goblin, his natty suit, clawed fingers caressing a pile of gold coins. When I positioned a Gringotts shot alongside a series of cartoons from Nazi Germany's Der Stürmer, it did not seem out of place.

I do not, I cannot believe that JK Rowling is an antisemite. Gringotts aside, neither her books nor her public face would suggest it was so. All I can think is that these images are now so deep in the collective subconscious that even in this era of apparent 'wokeness', they can sit squarely in the public domain, their problematic nature apparently unnoticed. A loathsome proxy Jew as children's entertainment? Why not? Many do know why not.

But when I tweeted the Gringotts press shots I had replies saying that the antisemitic symbolism was coincidental, or that they did not see why there was an issue.

The writer in me is appalled by the sheer laziness of it. Harry Potter's universe is a place where love, bravery and grief sparkle with sorcery; where the dead whisper to the living, a world where good and evil do battle in depictions that sends young hearts soaring. JK Rowling is better than this.

And if centuries of hatred can influence her work in this way, if not a single dissenting voice spoke up within Warner Bros as the exhibit was built, if the result can be published across the national media without even the hint of an outcry, what then?

It is so easy to give in to despair. Which is why we must shout louder, push harder, and remember, always remember why we fight, and for whom. Perhaps, then, the next generation of children's writers, and, crucially, their editors and their publishers, will have an awareness of where these stereotypes come from, and where they lead.

Those of us lucky enough to work in the arts must never forget that what we say matters. To write for young people is a privilege, and one that comes with responsibilities. Not for nothing was there a Hitler Youth. The seeds we plant can bear monstrous fruit.

On 5 April 1944, Anne Frank wrote, 'When I write I shake off all my cares. My sorrow disappears, my spirits are revived! But, and that's a big question, will I ever be able to write something great?… I hope so, oh, I hope so very much.'

The world failed Anne Frank. Please, 75 years on, let it not fail our children.
Another tone-deaf Jewish victim of the pernicious desire to root out any whiff of "Jew hate" and avert "another" Holocaust™ — the writer is blind to how she and her fellow Jews have been abused and manipulated by their elite.
The "editors and publishers" of children's books are overwhelmingly Jewish — and of all publishing for that matter — and it's these Jews in power who do not see this depiction of an evil banker as inherently "antisemitic".
Of course, the official, politically-correct explanation as to why Jews historically are over-represented in banking and usury is that they were "forbidden" from most other professions in Christian nations.
And because Christians were strictly forbidden to practice usury, only Jews could legally be bankers.
How "oppressive" life is when the only profession open to you is banking.
This explanation, of course, is false and misleading — Jews practiced many professions besides banking — but their rapacious usury that created predictable resentment and hostility toward them among the Christians in every nation and state where they have dwelled.
And after each expulsion or pogrom, they would doggedly return to the scene of the crime — like a dog to its own vomit — and start the whole vicious cycle over again — and blame the host nation every time, with no personal accountability.
Why would Jews insist on returning to countries where they had been killed and driven out of — if not for the allure of easy money which far out-weighed the risk of another violent pogrom?
No Christian would return to a country that hated him and tried to exterminate him — yet Jews have done just that hundreds of times — proving they are either gluttons for punishment — or that "antisemitism" really doesn't bother them nearly as much as they claim.