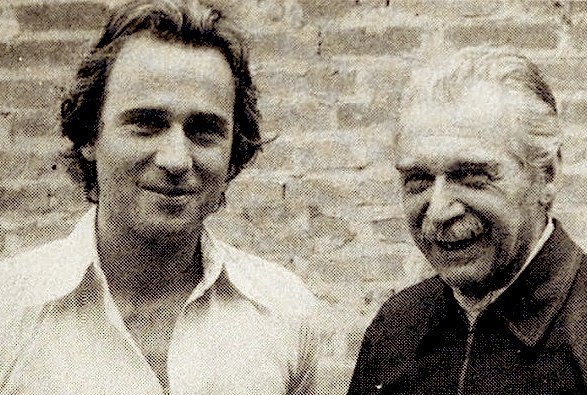 (The Jewish Chronicle) When Rolf Mengele, the son of Josef Mengele, finally got to meet his notorious father hiding out in Brazil in 1977, his father flatly denied all the allegations that his false accusers had heaped on him and was astonished that his son believed such slander:
…In the 14 days that Rolf spent with his father, he learned a lot about him — the fact that he spoke Latin and Greek, that he was mentally alert — and also about his dark side — his mood swings, his talk of suicide, his depression and his temper. But he learned nothing at all about what his father actually did at Auschwitz, beyond his claim that he "had to do his duty, to carry out orders" and that he had "not invent(ed) Auschwitz".

…Then came Rolf's cross examination. If his father felt so certain of his ground, why had he not turned himself in? "There are no judges, only avengers," replied his father…

Mengele explained to his son that the "Selektions" were analogous to a wartime field hospital where doctors had to make near instantaneous decision on who to save and who to let die. "People were arriving infected with disease, half dead," his father said, claiming to have done his best to save people by selecting "as many able to work as possible".

Mengele even claimed that "twins in the camp owed their lives to him" and that he "personally had never harmed anyone in his life".

Sensing his son's incredulity, Mengele became angry. "Don't tell me that you, my only son, believe what they write about me?" he shouted. "On my mother's life, I have never hurt anyone."

Rolf said: "These allegations, these facts, left me speechless. I tried to tell him that his presence in Auschwitz alone was unacceptable to me. I was hoping he'd say 'I tried to get a transfer to the front. I did this; I did that.'" But he didn't. "Unfortunately, I realised that he would never express any remorse or feeling of guilt in my presence."

Eventually father and son agreed no useful purpose would be served by continuing the discussion. "There was no point in going on," explained Rolf. "I had to resign myself to that fact. He did promise to write everything down. He kept saying that if I had time to study what he meant, I might see his point." But Mengele never did, saying he couldn't take the risk in case the document one day fell into the hands of the authorities.

Their farewell at Sao Paulo airport was a brief and formal affair, Mengele too preoccupied with his fear that someone might be watching. "We shall try to meet again very soon, all of us," were his last words. But Rolf knew he would never see his father again. While he had resolved not to turn him in, he had no desire to develop a relationship. A month later, Mengele wrote to his son, thanking him for coming out to see him after so many years' absence. "Now I can die in peace," he wrote.

Fast forward 15 months to early February 1979, Sao Paulo's hottest month. To cool off, Mengele went with his friends, the Bosserts, to a beach at Bertioga. He was in a foul mood, complaining about the heat and his life in general. In the late afternoon, he took a dip in the gentle Atlantic waves. Ten minutes later he was fighting for his life. A stroke had paralysed one side of his body. By the time rescuers pulled him ashore he was dead. And there his body lay until darkness fell when the police arrived to take it to the morgue.
At the first Doctors' Trial at Nuremberg, Mengele was not even mentioned, nor was he even wanted by the Allies at that time, which is astonishing considering he was allegedly the most 'notorious' figure of 'Nazi evil' of the entire war.
And the so-called 'witnesses' to Mengele's alleged crimes couldn't even decide whether he had blond or brown hair — or blue or brown eyes.
The crimes Mengele was accused of are preposterous for someone of his academic achievements and scientific understanding — such as injecting blue dye into Jews' eyes to turn them into "Aryans".
But his son, Rolf, grew up in a vanquished Germany that had been brainwashed through a 'denazification' process to hate themselves for crimes and 'blood libels' that the National Socialists had never committed.
Mengele greatly underestimated the power of this 'denazification' to transform his own son into a mindless, judaized, demoralized, self-loathing automaton who believed everything the jewish-controlled media in Germany claimed.
And, of course, a wealthy Jew bought Josef Mengele's diary at auction and has hidden it from public view — proof there was nothing incriminating in it because if there had been, it would have been published in every known language on the face of the earth.
Here's an interview of Rolf speaking about his meeting with his father — about Auschwitz, his father says, "How can you imagine that this is possible for me to do these things? Don't you see at the first line this is a lie or propaganda?"
https://www.youtube.com/watch?v=I8sNiAgEKGo