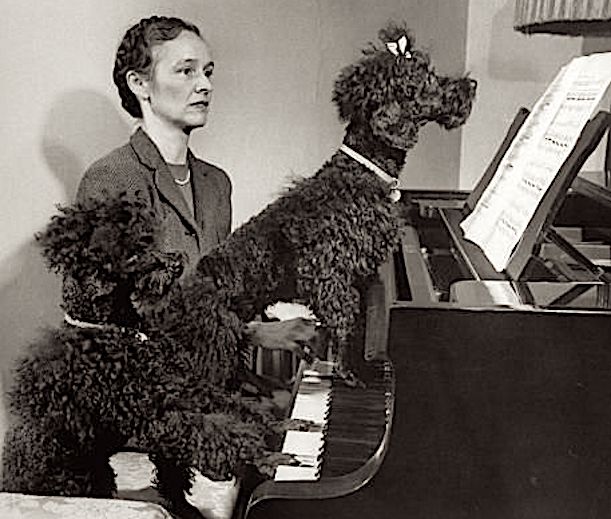 (Aish.com) Apparently, when Dr. Joseph Mengele wasn't too busy sewing identical twins together to create Siamese twins or injecting blue dye into Jewish eyeballs and pinning them like butterflies on his office wall, he enjoyed playing violin — and when he found out a new Jewish prisoner could play classical piano reasonably well, he found the perfect opportunity to combine his homicidal sadism with his love for classical music — with the help of one of his pet dogs:
…A survivor's story casts a new perspective on this issue. In an article in Israeli newspaper, Ha-Aretz, a doctoral student relates the story of her mother who survived Auschwitz because of the latter's musical talents.

The infamous Dr. Mengele, medical director of that camp, is well-known for the medical experiments which he performed on concentration camp inmates. These included such "scientific" inquiries as the length of time a man can survive being submerged in freezing water, which level of torture causes unconsciousness; how small children react to physical mutilations, and the like.

What is less known about Mengele, at least until this article was published, is that he was a devotee of classical music. In fact, in the same building known as "the experimentation block" there was a "music room" in which he would indulge his talent of violin playing.

When the above-mentioned woman arrived at Auschwitz, Mengele noted in her record that she was a pianist and asked her to perform for him. He was so impressed with her talents that he decided to give her special treatment, a privilege that ultimately spared her life.

In addition to the usual slave labor to which all inmates were subjected, this woman had to perform periodically for Mengele, often while the latter would accompany her on his violin. In particular, the article relates, he loved to have her play Shubert's "Serenade" and the religious hymn, "Ave Maria."

So important was music to Mengele, that he trained one of his dogs to be sensitive to every nuance of his favorite compositions. If ever the woman would play a note inaccurately, the dog would pounce on her and viciously bite her.

This happened many times when she was forced to perform before Mengele when she was unable to concentrate fully on her playing, such as after she had contracted tuberculosis.

She had at least ten scars all over her body resulting from dog-bites incurred by lapses in her performance….
Mengele's incredible skill as a dog trainer has never been mentioned outside of this "survivor's" testimony — which is remarkable considering he somehow trained this dog to learn Shubert's "Serenade" note-for note — and all the more remarkable considering how hard it is for even advanced classical music students to learn:
And what better way to ensure that this tubercular Jewish woman played Shubert perfectly than to have a vicious attack dog ready to pounce on her the second she made even the slightest error?
We also have to wonder why Mengele didn't just send her to the Gas Chambers™ if she had tuberculosis in the first place — not only would TB make her rather useless for "slave labor" but also it appears to have affected her ability to play Shubert flawlessly.
It's not as if talented — even "world class" — Jewish musicians were scarce at Auschwitz — we can be certain that a classical music aficionado like Mengele would have been well aware that the Jewish inmates had their own orchestras which played for the entertainment of their fellow internees and German captors alike.
For those of you who may doubt this seemingly tall tale, we would like to remind you of the recently discovered "proof" that Mengele was very adept at training dogs — er, or at least training Jewish boys to behave as dogs — almost the same thing.
Yes, that's right — apparently, when a Jewish researcher whose specialty is the "role of dogs in the Holocaust" was going through another survivor's archived materials, she stumbled upon the written "testimony" of a Jewish boy named "Otto" was was allegedly trained by Mengele to behave like a dog — so shocking was the story that she initially doubted its authenticity, writing:
"For a long time I didn't know how to treat this story, because on the one hand it sounds made-up, exaggerated, even fantastical, but on the other hand, it sounds natural and plausible within the framework of the Holocaust horrors that happened in reality."
Of course, her words could describe 99.9% of all Jewish eyewitness testimonies of the "Holocaust" — but given Mengele's unique depravity, why doubt it at all?
Only an "antisemite" or "neo-Nazi" would ever doubt a Jewish "eyewitness" who claimed,
Mengele once impregnated one twin with the sperm from a different twin to see if she would produce twins. When there was only one baby, one survivor claimed he tore the baby out of the mother's uterus and threw the child into an oven and walked away.
If this sounds like a scene out of a comic book, it shouldn't surprise us because Jews "built the comic book industry from the ground up" — just as they did Hollywood, which cranks out fantastical Holocaust movies every year.
Another Jewish classical pianist and "Holocaust survivor" — Nelly Ben-Or — claims that when the transport train she was on arrived at Auschwitz, the camp "was full" — and she somehow managed to survive by hiding out in a nearby "abandoned pig sty" — the ultimate degradation for any Jew.
Clearly, we can trust any eyewitness who can play classical piano.
But what really happened at Auschwitz with Mengele is far too mundane for Jewish tastes and tendency toward exaggeration.
As Josef Mengele told his son long after the war ended, he "personally had never harmed anyone in his life."