(The Jewish Chronicle) "Rabbi" Natasha Mann — "the first openly queer rabbi in a traditional Jewish denomination in Europe" — who was born to an English mother and Indian father — and converted to Judaism — has projected onto the prophet Zephaniah her own "mixed race" identity:
Our ancestors would not have recognized the categories of race that we navigate today. Tribal categories certainly existed and physical features were related to them, but they had their own contexts and complications. It is sometimes challenging to read ancient texts without being unduly influenced by our own societal expectations and experiences.

That being said, I have long been interested in the tribal profile of the prophet Zephaniah. Zephaniah, one of the lesser-known prophets of the Twelve Minor Prophets, was quite possibly a man we would recognize today as being mixed race.

According to Zephaniah 1:1, "The word of the Lord that came to Zephaniah, son of Cushi, son of Gedaliah, son of Amariah, son of Hezekiah, during the reign of King Josiah son of Amon of Judah."

Let's unpack this unusual family tree. It is most unusual to get this much information about the history of a prophet; usually, the biographical information would be limited to the name of the prophet and his father, along with the name of the king to provide us with a time period.

Sometimes, we don't even get that much information. But here, Zephaniah's name is followed by a list of four names: Cushi, Gedaliah, Amariah, and Hezekiah.

There are two great mysteries to Zephaniah's introduction. First, the name of his father seems to be Cushi. This would be a very strange name indeed.

Cush was a geographical area in the biblical world; the Kingdom of Cush lay south of Egypt, in what is modern-day Sudan. (Cushi is, incidentally, used in modern Hebrew to refer to black people with pejorative connotations. It's worth noting, however, that there are no value implications in the biblical term.)

The most linguistically intuitive way to read "Cushi" here is as a name, not as a description.
However, when we make the assumption that Cushi is the name of Zephaniah's father, we must wonder why an Israelite man would be given this name.

It is, of course, equivalent to a parent of the Kingdom of Cush naming her child "Israelite". It is especially interesting that the Cushite people are mentioned by Zephaniah twice later in the text (Zephaniah 2:12 and 3:10).

I find it difficult to believe that Cushi would be given such a name without a Cushite connection and that Zephaniah would be inclined to mention Cush multiple times if it were pure coincidence.

The most natural way to read this text, I think, is to assume that the man Cushi had Cushite heritage, perhaps through his mother's line. This would give Zephaniah three Israelite grandparents and one Cushite grandparent.

While we should avoid imposing ideas of blackness and whiteness on to a society that held different understandings of tribe and ethnicity, we live in an active relationship with our texts. They do not, and should not, exist in some kind of cultural vacuum.

I am a mixed-race person and I see part of myself reflected in Zephaniah's apparent mixed heritage.

What might it have meant for Zephaniah to navigate life as a prophet with heritage from another kingdom? Did it make a difference to his life and perspective? Did he see himself as connected in some way to Cush, even as he was such a profoundly Israelite man that he was one of few gifted with prophecy?

That leads us to the second mystery of Zephaniah's superscription: its sheer length. One traditional explanation, purported by Ibn Ezra, is that we require so much of Zephaniah's family tree in order to lead us back to the name Hezekiah.

This Hezekiah, Ibn Ezra suggests, is actually a character we know from elsewhere: King Hezekiah, famously the last righteous king before the monarch reigning during Zephaniah's lifetime. To read the superscription that way tells us that Zephaniah is the descendant of a righteous king and, therefore, as much of an insider to his society as it's possible to be…

…Zephaniah may be an example of a man of African heritage in the Tanach and also the descendant of the last good king of Judah. Perhaps taking both of those interpretations seriously can allow something in Zephaniah's prophecy to unfold anew.

Zephaniah's book of prophecy faces in two directions. He speaks to Israelite society (the insiders) and to the surrounding nations (the outsiders). He turns his face in both directions in order to offer piercing condemnation. And to both, Zephaniah concludes by envisioning the possibility of redemption:

"From beyond the rivers of Cush, My suppliants Shall bring offerings to Me in Fair Puzai" (Zephaniah 3:10)
"In that day This shall be said to Jerusalem: Have no fear, O Zion; Let not your hands droop!" (Zephaniah 3:16).

For this prophet, having heritage from the royal house of Judah and from the kingdom of Cush may well be used as an advantage. Zephaniah's place in the world is unique: he is able to look in both directions. What may seem unusual about him becomes his great strength as a prophet.

In other words, "Rabbi" Mann is suggesting the hackneyed Jewish cliché that "diversity" is Zephaniah's "strength" — talk about, as Mann previously warned against, being "unduly influenced by our own societal expectations and experiences."
Let's be clear, though — "Rabbi" Mann has no overt "Jewish" ancestry — she's a convert to "Reformed" Judaism, and therefore, she would not qualify for any "right to return" or citizenship in Israel.
That said, the majority of "Jews" in Israel today are Ashkenazi — and the Ashkenazi are all originally Khazar converts to Judaism — so in that sense, she's no less a "Jew" than any Ashkenazi — while the Sephardim and Mizrahi Jews are clearly mixed with arabic blood — having absorbed those bloodlines during their diasporic sojourns in Mulsim countries.
Either way, neither Mann nor any Ashkenazi has any legitimate claim to be descendants of the ancient Israelites — which the Jews have admitted to in their 1980 Jewish Almanac:
"Strictly speaking, it is incorrect to call an ancient Israelite a Jew or to call a contemporary Jew an Israelite or a Hebrew."
This "complicated" identity of today's Jews has nothing to do with Israelite identity of the ancient prophets — and to project that confused, mixed race identity on those prophets is a typical example of Jewish narcissistic projection.
None of the early generations of Israelites were "pure" Israelites on both sides of the family — that would be impossible — Jacob's twelve sons has no choice but to take wives from the original Adamic Genesis 10 nations.
The same would have been true of the second and third generations of Israelites — so as to avoid incest.
In reality, by Israelite law, only the father must be an Israelite for the children to inherit Israelite identity — as long as the wives were of legitimate Adamic bloodlines.
Deuteronomy 23:2 makes this law against mixed race marriages very clear:
"A bastard shall not enter into the congregation of the LORD; even to his tenth generation shall he not enter into the congregation of the LORD."
A "bastard" here has two important meanings — based on the Hebrew word "mamzer" (Strong's 4464).
First, a "mamzer" can mean a child who is the product of incest — which explains why Jacob's sons and grandchildren — et al — could not marry fellow Israelites — and had to take spouses from the Genesis 10 bloodlines.
Second, a "mamzer" also refers to someone of "mixed race" ancestry — and that would mean anyone outside the original, unmixed Adamic bloodlines of Genesis 10.
Because all "Jews" today are mixed race, they have attempted to redefine the original meaning of "mamzer" to ignore the prohibition against race mixing and claim instead that it strictly means the "product of incest" or marrying a "non-Jew."
According to rabbinical sources, "Jews" changed from patrilineal to matrilineal identity sometime around 200 AD — so as to justify their being mixed race after the fact.
However, since Israelite identity — according to what the Old Testament states — must come through the father, no "Jew" today can possibly make any legitimate claim to being an Israelite.
Ezra chapter 10 makes this very clear — Israelites had disobeyed God and taken "strange wives" in Babylon and fathered forbidden children — mamzers — with them.
Ezra formed a council with the leaders and commanded that any Israelite who had taken a "strange" wife or had "strange" children must "put them away" (Ezra 10:19) — meaning divorce.
Talmudic rabbis misinterpret Ezra 10 by claiming that it proves that non-Jewish wives are prohibited — and therefore "Jewish" identity descends through the mother not the father — an astounding inversion of reality — typical of the self-justifying talmudic mindset.
Now some people would like to claim that these Israelite men in Babylon had merely taken non-Israelite wives — but as we've seen previously, there was no prohibition against marriage to a wife who was from a legitimate Adamic bloodline — as all of Jacob's sons married such women — the father confers Israelite identity on his children.
We also see this was the case with the marriage of Ruth the Moabite to the Israelite Boaz — yes, some claim that Ruth was an Israelite who lived in Moab, but there's no proof of that — and as we demonstrated in a previous essay, the original Moabites — like the original Canaanites — were most certainly of pure Adamic stock, descendants of Noah.
Recall Moab himself was the son of Lot, who was the son of Haran — Abraham's brother.
If Ruth could enter into a legitimate marriage with Boaz, then so too could the men of Israel during Ezra's time — therefore, the "strange wives" of whom Ezra speaks must be forbidden because they were non-Adamic — that is, they were products of mixing Adamic and non-Adamic seed.
Which brings us back to the Israelite prophet Zephaniah — there is no way that given the laws against race mixing that he could possibly be mixed race, which would have disqualified him not only as a legitimate Israelite, but also would have disqualified him as a prophet.
If we "assume" — as "Rabbi" Mann does — that Zephaniah did indeed have some Cushite blood, then his Cushite ancestry must have been pure and unmixed Adamic — a direct descendant of Cush, Ham, and Noah.
The "righteous among the nations" refer to pure descendants of Noah who, like Noah, was "perfect in his generations" — or genealogy — and "righteous" in following God.
An analysis of the Hebrew connotations of "generations" here makes this abundantly clear:
"Nm) rd (דר DR) – I. Generation: As a circle of the family. II. White: From the whiteness of the pearl. KJV (5): white, generation – Strongs: H1858 (דַּר), H1859 (דָּר)"
Yes, you read that correctly, Noah was White — as compared to the "whiteness of the pearl."
And if Noah and his entire family were White — which is why they were preserved — then how can mainstream Christians believe that all the different races somehow descended from him?
Impossible.
And this explains why Jews searching for the "ten lost tribes of Israel" among the races of the Third World is completely contrary to Scripture — Jews simply refuse to accept that any legitimate Israelite must be unmixed without non-Adamic blood — and we can identify Adamic people who resemble "the whiteness of the pearl."
And we know that the original Cushites were indeed a pure Adamic people — as we demonstrated in a previous essay — descendants of Noah via Ham and Cush — and that includes the original Egyptians — after all it would have been completely appropriate for Joseph to take an Egyptian wife — Asenath — if she were from an umixed bloodline — which she was — the daughter of Potipherah, a high-born Egyptian priest.
Yet Jews today would have us believe that Joseph's descendants from the tribe of Mennaseh can be found among the mamzer "Jews" of India — simply because they observe "Jewish festivals" and "keep kosher" — completely divorced from laws of legitimate marriages.
However, we know that the original Cushites were eventually overrun by African nubians — and the original Adamic Cushites either fled to other nations or were absorbed into its conquerors' bloodline — which gave rise to the black Ethiopians today.
Mann's article on Zephaniah includes an image of Egyptians with their Nubian black slaves: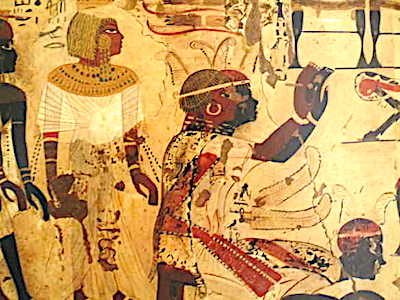 The caption for this image reads, "The ancient Nubians (the people of Cush)" — somehow conflating black Nubains with legitimate Cushite Egyptians — which they were most certainly not.
In fact, the term "nubian" appears nowhere in the Old Testament because the black nubians were not legitimate Adamic people descendant of Noah — nor could they have been since Noah and his wife were from pure Adamic bloodlines.
And notice how "Rabbi" Mann — even though she has an "English" mother — nevertheless identifies with the non-white side of her family — which is typical of all mixed race people.
It has been these mixed race converso and crypto-Jews who infiltrated the Catholic Church and attacked the traditional "purity of blood" doctrine of the original Spanish Christians — and then pushed the Catholic Church to claim that race was not a consideration in conversion to Christianity — a dogma that has had disastrous results for the Church — as these Jews have been the prime movers of the destruction of the Church — culminating in their authorship of Vatican II.
In a recent interview (@ 53:00) Catholic writer, E. Michael Jones quoted prominent Catholic priest, Theodore Hesburgh, who warned about Jewish infiltration of society:
"If you let the Jews in, they take over, and that's the situation we're in today."
But apparently that rule doesn't apply to allowing Jews into Christian congregations — what Jews have wrought on our Christian nations is no different from what they've done to Christianity itself — and to think that baptism will magically make them act any differently is simply willful ignorance.
Likewise, when Israelites ignored the racial covenants, they too were undermined by the same mixed race subverters of the faith — the Jewish "holy" book "the Talmud" is a complete subversion of Hebrewism of ancient Israel — and unfortunately all mainstream Christian denominations have followed their lead.
Zephaniah warned that the tribe of Judah had brought Baal worship back with them to Jerusalem from their captivity in Babylon — where Ezra testified that Israelites had taken wives of "strange flesh" who worshiped strange gods.
Baal worship leads to fornication and race mixing — and God promised that he would "cut off" those Israelites who engaged in it — making them desolate — a prophecy fulfilled in modern Jewry.