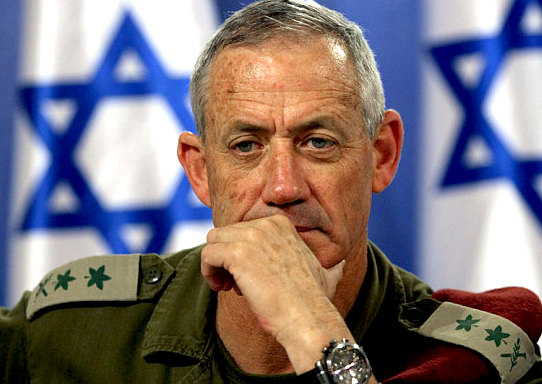 Israelis are very sensitive about being compared to Nazis, so when ex-IDF Chief Benny Gantz decided to run against Netanyahu for Prime Minister, his campaign slogan "Israel Before All" is only going to continue those unwelcome comparisons:
After weeks of near-silence on his new party's political platform, former IDF chief of staff Benny Gantz on Thursday unleashed a social media blitz as the "first step" in his election campaign.

In his first video, Gantz poked fun at himself for saying very little about his political views — while saying very little.

Unveiling a party slogan of "Israel before all," with a color scheme of military khaki, Gantz gave the first, albeit limited, glimpse into the sort of election campaign he hopes to run.

The first Facebook post of the Israel Resilience party campaign included a video of Gantz inviting his followers on social media to join him, saying: "I put Israel before everything. Join me and we will take a new path together. Because it should be different, it can be different and we will make it different."

At the end of the clip, the taciturn party leader jokes, "I think I've said too much."

A spokesperson for the party would not say when Gantz plans to give a first public address, but told The Times Israel that the release of the video and establishment of social media channels were the "first step" of the campaign.

In addition to the Facebook page, the party also launched Twitter and Instagram accounts.
The Jews seem to have a love-hate relationship with Nazis.  After all, if it weren't for some alleged "war crimes" allegedly committed by the so-called Nazis, there would have been no justification for the establishment of the ersatz State of Israel.  But the Jews resent it when their opponents point out that they use ruthless "Nazi" tactics against the Palestinians.  They argue that this comparison is false because the Nazis allegedly killed Jews, not Palestinians, or something like that.
And in the wake of the German surrender after WWII, the Allies and the Jews ransacked Germany and stole everything, even if it was nailed down, including over 400,000 patents.  So it's no surprise that the Jew Benny Gantz s appropriates a "Nazi" phrase, "Germany Uber Alles" to get himself elected.  Never mind that this phrase was not invented by the Nazis to promote German racial superiority, but let's not let facts get in the way of a good jewish fable.