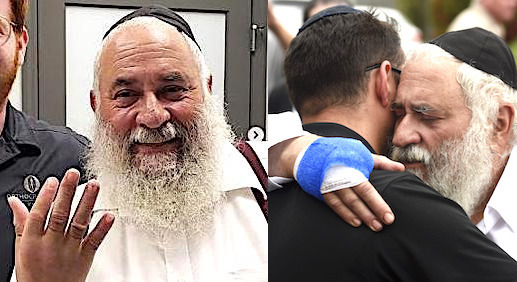 The rabbi who allegedly had his finger shot off during the attack on the Poway Synagogue — is back in the news, this time for pleading guilty to a multi-million dollar fraud scheme involving Federal tax evasion for which he will not serve even a single day in prison:
Rabbi Yisroel Goldstein, the former leader of Chabad of Poway in Southern California, was among several defendants who pled guilty in federal court on Tuesday to charges of fraud related to a multimillion-dollar tax-evasion scheme that lasted at least eight years.

The charges were brought by the U.S. Attorney's Office Southern District of California following a long-term investigation by the U.S. Department of Justice.

Goldstein will be sentenced on Oct. 19. He faces a maximum of five years in prison and a $250,000 fine.

In a press conference on Tuesday, the government said it will recommend probation for the rabbi with no time in custody. Additionally, Goldstein will need to pay $3.5 million in restitution, of which he has already ceded $1 million in gold coins.

Goldstein, 58, gained national attention in April 2019 after a gunman attacked Chabad of Poway on the last day of Passover during morning services. One congregant was killed in the attack in which Goldstein, then senior rabbi of the congregation, was shot and lost a finger in the assault.

"This case has brought us a great deal of anguish because of the attack on Chabad of Poway," said U.S. Attorney Robert Brewer. "Sadly, the facts of this case show a willful, devious effort to deceive on the part of a trusted community leader. Evading taxes causes harm not just to the government, but also to one's fellow citizens, who are forced to bear a heavier burden. Members of Chabad of Poway are also victims of this crime, for those fake donations certainly did not benefit their congregation."
It was a clearly a 'miracle' that the rabbi received a 'life-like' replacement finger so soon after the shooting, and another miracle that he's going to avoid prison after committing such a 'devious' financial swindle — against Jews in his own synagogue.
Rabbis like Goldstein often use their status as devout 'religious' men as a cover for their involvements in all kinds of illegal activities, from tax evasion and money laundering to drug smuggling, human trafficking, and pedophilia.
While normal people would be serving prison time for such an egregious and long-running crime to defraud the Federal government, this rabbi has "Jewish Privilege" which allows him to avoid any jail time whatsoever.
And good luck collecting the $3.5 million in restitution that the rabbi owes his mostly Jewish victims — he'll cry poverty, hide his assets in his backyard, and avoid paying back anything to his victims.