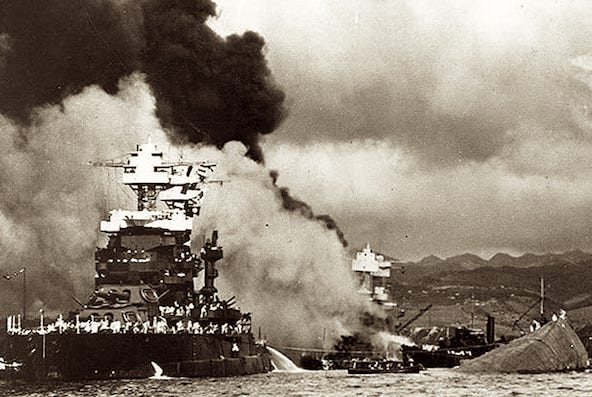 While jewish rabbis have very vociferously objected to the exhumation of Jews who allegedly were "massacred" in WWII by the Poles at Jedwabne in Poland, they apparently have no objection to the exhumation of a jewish soldier who died on the U.S.S. Oklahoma at Pear Harbor and was buried in a mass grave:
The remains of a Jewish serviceman killed in the bombing of Pearl Harbor have been identified.

Charles M. Stern Jr. of Albany, New York, was an ensign who enlisted in the US Navy on August 1, 1940. He was 26 when he died on the USS Oklahoma on December 7, 1941, one of 429 crewmen who were killed in the Japanese attack on the ship.

Stern was buried with the remains of other unidentified soldiers from the attack in a mass grave in the National Memorial Cemetery of the Pacific in Hawaii.

In 2015, the Defense POW/MIA Accounting Agency exhumed the unidentified remains from the Oklahoma and used more sophisticated DNA testing to identify the remains of the dead. The agency announced Tuesday that Stern's remains were accounted for.

His nephew and namesake, Charles M. Stern III, told the New York television station News10 that Stern will be buried in a plot next to his parents, as the family originally intended.

In 1943, Albany Veterans' Post 105 and the Jewish Welfare board dedicated a service flag at the Albany JCC representing 550 Jewish men killed in service. The book "The Jewish Veteran" noted that one of the gold stars on the flag represented Stern, the first man from Albany to be killed in action.
It is shocking to discover how capricious and hypocritical the Jews are on this issue, and it brings up the old "canard" that the jewish sense of morality can be boiled down to the simple proposition, "But is it good for the Jews?"  Exhuming the bodies in the mass grave in Poland would potentially be "bad for the Jews" because it could reveal that the grave isn't, in fact, filled with jewish victims of a "pogrom" committed by the Poles who were "collaborating" with the Nazis.
But exhuming the body of the Jew at Pear Harbor is "good for the Jews" because it gives the misleading impression that Jews, just like most of the goyim, fought to defend America against the "yellow peril" in the Pacific.  Also, exhuming this Jew at Pearl Harbor poses no threat to any particular jewish narrative, like the Holocaust, which could be undermined or exposed to the goyim as obviously false.  The Jews aren't stupid — they know where the "bodies are buried" and where they are not, and which bodies are "good for the Jews" and which ones are not.