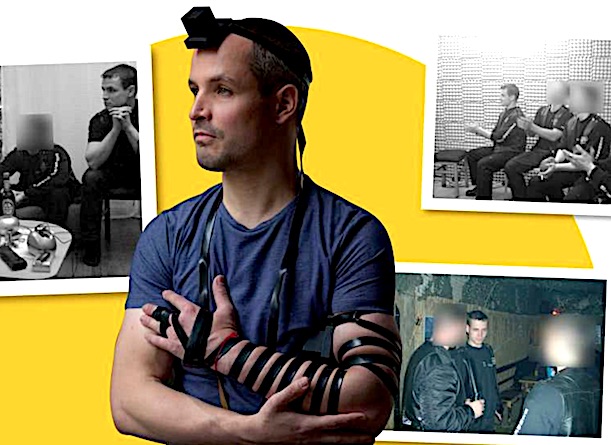 (The Jewish Chronicle) Former neo-Nazi — Lutz Langer — had a dream, started reading the Kabbalah, and before he knew it, he was an orthodox Jew living in Tel Aviv — warning the world of an international "Nazi" underground that is planning a "race war" against the firmly entrenched radical Left in power:
Yonatan Langer cuts an unassuming figure nowadays. Soft-spoken and polite, the 38-year-old Tel Aviv resident wears a kippah, keeps kosher and prays every day — the model of an observant Jew.

Fifteen years ago, however, he was Lutz Langer: a hardcore neo-Nazi at the centre of Berlin's fascist rock scene working to destroy what he saw as a degenerate Jewish government.

Speaking to the JC in Krakow, Poland, where he had travelled to attend a wreath-laying ceremony at Auschwitz, he described how his conversion to Judaism changed his life and taught him to reject hatred. He also offered a chilling warning of the dark forces growing in strength across Europe.

Neo-Nazi "sleeper agents" across the continent are preparing to overthrow democracy and initiate a race war, he fears.

Committed white nationalists are allegedly working in normal jobs and avoiding demonstrations that might put them on a police watchlist.

But behind the scenes they are quietly working towards the revival of Hitler's Germany. Since he abandoned the movement, Mr Langer told the JC, "the neo-Nazis now have way more money, they are very well organised, they are helping each other with contracts and business relations and they are very influential, especially with social media".

While it is impossible to know exactly how many active white nationalists are working to infiltrate mainstream society, there are indications that in Germany at least, the problem is widespread.

Between 2008 and 2020, military intelligence identified around 200 far-right radicals within the armed forces. In 2020, Defence Minister Annegret Kramp-Karrenbauer disbanded an elite special forces regiment — the KSK — because of fears that it had been infiltrated by far-right extremists.

And most concerningly, in 2017, police uncovered a plot masterminded by former policemen and army officers to assassinate a string of mainstream politicians and overturn democracy on "Day X".

The would-be terrorists, all of whom were trained marksmen, had stockpiled weapons and bodybags and drawn up lists of tens of thousands of potential targets. Germany's anti-terror agency, the BfV, says the group was preparing with "enormous intensity".

Mr Langer claimed that his Berlin cell was also secretly working towards "Day X", when they would "take to the streets" and shift Germany towards race war. "We randomly went to marches, but it's known that when you're going to marches you're identified by the police and you are on the radar," he said. "So we had our clubhouse where we invited neo-Nazi leaders, musicians, and made contacts with other groups.

"We played our neo-Nazi music for regular Germans from the neighbourhood, often friends would come, and we built the idea for Day X."

The idea behind his group's plans, he said, was to "bring back the time of the Nazis".

At the core of that dream was the covert infiltration of mainstream society. "We connected [with] each other, we brought each other in and tried to achieve higher positions where we could influence [German society] because when you are on the street, going to marches, you are very short-term, you don't achieve anything.

"You may go to prison, or you have constant supervision by the police, and we didn't have that."

Undercover neo-Nazis like the young Lutz Langer are "not only in Germany," he insists, but "in every country".

The growth of social media networks, meanwhile, is making it far simpler for extremists to connect. "It's very easy to get to people, to a network, even if you are in a small town," he said.

"For us it was an easy thing because we were in a big town. We could meet leaders of the scene or find the music, but when you were in a small town you didn't get to do that. Now it's very easy."

Born in East Germany to Christian parents in 1983, Mr Langer grew up in a typical middle-class home. After joining a karate class as a teenager he was radicalised by a far-right instructor, and gradually became enmeshed deeper and deeper within the Berlin far-right rock scene.

"We started to listen to neo-Nazi music in training camps and from listening to music, we made copies," he said.

"We went to parties, then at some point we realised that going to clubs you cannot listen to the music that we like, so we opened a clubhouse in Berlin where we would gather and have our parties and play our neo-Nazi music."

After a decade as a white supremacist leader, he gradually became disillusioned and began to look for an escape from the movement.

Remarkably, at that point a dream inspired him to turn to Kabbalah, through which he got in touch with a Jewish man, who in turn helped him to renounce his violent past.

Teaching Jewish values, he now claims, could help many others deradicalise and reject hatred.

"I had to find a reason why not to be negative, and one of the things was I want to be in control so I ask a lot of questions and Judaism always explained this," he said.

"So you put on tefillin to control your negativity, to control your reactivity, you go to the mikvah to purify your thoughts, you eat kosher not to give the energy to your Nefesh [HaBahamis]."

Discussing how he rejected extremism with Jewish leaders from across Europe, Mr Langer said he had to "learn to become a mensch.

"After 14 years, [I am] now standing in front of you as an Orthodox Jew who is recognised by the rabbinate in Israel, who lives in Israel, who got the chance for a new life."

He added: "Antisemitism is not a problem of Jews but all of our problem. It's hatred at its source and hatred doesn't stop with Jews. "We need to bring more light to our world so the darkness disappears."
If you substituted Jews for neo-Nazis in this article, you'd get a pretty good picture how Jews started out, networking, and eventually infiltrated all the halls of power and the media.
Jews are terrified that those who oppose their grip on power will do the same thing they did.
Instead of an international Jewish-communist conspiracy, it's now an international "neo-Nazi" conspiracy to bring about a race war — which is ironic considering that Jews use racial tension, pitting blacks against whites, to help bring about their own revolution in the West.
When Jews do this, they call it "tikkun olam" — or "healing the world" — yes, healing the world through extreme violence that left at least 50 million dead in the wake of their Bolshevik revolution to bring about "equality" and ending "hate".
It seems that what happened to Langer is that after 10 years of nothing happening — no advancement of the "neo-Nazi" revolution — he became disillusioned — and felt, "If you can't beat 'em, join 'em."
Jews have become very adept at convincing Germans that loving their own people — or even mourning their needless deaths — is a form of "hate" — except when Jews do it.
Leading Jewish groups in Europe have openly conceded that the real threat of violent antisemitism does not come from the "far Right" or "neo-Nazis" but rather from Muslims — "golems" — by their own admission — whom they imported into Europe to "diversify" and subvert the native white Christian population.
In fact, Germany's "antisemitism Czar" — Monika Schwarz-Friesel — claimed that "neo-Nazis" are not a "serious social problem" but Christianity is — especially those Christians who rightly deny that Judaism is the basis of Christianity.
She knows that "neo-Nazis" and "white nationalists" are not a threat because Jews and their stooges have infiltrated all these circles — and even lead them in many cases.
In 2014, Jews infiltrated a German neo-Nazi group and "tricked" them into raising money for a Jewish anti-extremist group.
And most of the high-profile arrests of "neo-Nazis" turn out to be alienated, unstable teenagers who fantasize about "Nazis" while they play computer games online.
It is these disgruntled teens that apparently comprise the "international white supremacist terror network" that the ADL and Homeland Security alleges is working night and day to overthrow the West.
As for Lutz Langer, all he has done is switched from "white supremacy" to Jewish supremacy — by learning to love those who want his race annihilated — one way or another — through "tikkun olam" — so-called "Jewish blessings."