Prayer is a foundational part of life as a Christian — if there were pillars upon which one's faith rested, then certainly prayer would be one of those pillars. Without that pillar the faith comes crashing down.
That said, we certainly do not intend to disparage anyone's faith if they do not pray — rather, we hope to encourage Christians in elevating their faith to new, previously unknown levels. Just like Paul said in 2 Corinthians 1:24,
Not that we domineer over your faith, but we are workers with you for your joy; for in your faith you are standing firm.
Indeed, we speak with joy on this topic — that the reader's joy may also increase. Anyone not familiar with or practiced in the way of prayer may have joy and hope in earnest for the fruit that it brings.
We hope to lay out the matter in a practical way that may be applied in the life of any Christian — equipping them to become partakers in the Kingdom of God.
ASK FOR THE PROMISES MADE
First and foremost, we would like to establish the necessity for prayer. Many Christians do not recognize the necessity for prayer — we ourselves thought the same way in the past. One might think, "God is in complete control — and I trust His control — so why should I have to ask for anything?"
However, God does indeed expect of us to ask all things of Him, else we will not receive them. In fact, not only does He expect us to ask for all things, but He even expects us to ask for the things which He has already promised to us. David — when he had just received the Davidic covenant from Nathan the prophet — is a fantastic example of this principle.
In 2 Samuel 7, David set his mind upon building a house for the Lord to dwell in. When consulting Nathan, he gave David the Davidic covenant — the promise that one of his descendants would build the house of God and that descendant would rule forever. Where David planned on building a house for the Lord, the Lord promised to build a house for David. In response, David prayed the following in verses 25-27:
25 Now then, Lord God, the word that You have spoken about Your servant and his house, confirm it forever, and do just as You have spoken, 26 so that Your name may be great forever, by saying, 'The Lord of armies is God over Israel'; and may the house of Your servant David be established before You. 27 For You, Lord of armies, God of Israel, have given a revelation to Your servant, saying, 'I will build you a house'; therefore Your servant has found courage to pray this prayer to You.
After receiving the promise, David immediately went to pray and ask for it to be confirmed. Why would he do that if the promise was a given? Maybe David is on to something? Similarly, consider the example of Daniel in Daniel 9:2-3,
2 in the first year of his reign, I, Daniel, observed in the books the number of the years which was revealed as the word of the Lord to Jeremiah the prophet for the completion of the desolations of Jerusalem, namely, seventy years. 3 So I gave my attention to the Lord God, to seek Him by prayer and pleading, with fasting, sackcloth, and ashes.
Jeremiah stated quite plainly that Israel would be in captivity for 70 years (Jeremiah 25:11, 29:10). If this was a certainty — promised and prophesied, then why would Daniel feel the need to actually ask for it? Going with this same pattern, the Lord gives us the most striking example of this principle in Matthew 6:9-13:
9 "Pray, then, in this way: 'Our Father, who is in heaven, Hallowed be Your name. 10 Your kingdom come. Your will be done, On earth as it is in heaven.
Why do we need to ask the Father for His will to be done? The intuitive reaction may be that the Father's will is going to be done regardless of what we do. Do we then assume that the Lord commanded us to pray in such a way in vain? Rather, should we not assume that He commanded us this way because it is necessary?
Did David ask for the realization of the Davidic covenant because he wanted to look holy? Did Daniel ask for the forgiveness of Israel because he just wanted his prayer recorded in the Scripture? Their actions — along with the commands of the Lord — are confusing if we cannot accept a simple principle: It is necessary.
The Lord commands us to play an active part in the Kingdom of God through prayer. If we are even to pray for the coming of the Kingdom of God — which will come with certainty and glory — then how much more are we to pray for ourselves and our brethren?
Having lain that principle down, it will become more and more apparent how necessary prayer is as we continue.
ASK ACCORDING TO THE WILL OF GOD
In each of the three examples given above, there is one common denominator: They prayed according to the will of God. David had just heard by Nathan that it was God's will to build him a house. Daniel had just realized that it was God's will to end the Babylonian exile after 70 years. The Lord commanded us to pray for the realization of the Kingdom of God — "Your will be done."
John states this principle very plainly in 1 John 5:14-15:
14 This is the confidence which we have before Him, that, if we ask anything according to His will, He hears us. 15 And if we know that He hears us in whatever we ask, we know that we have the requests which we have asked from Him.
John tells us that if we ask anything according to the will of God, it will be done. A large barrier to understanding the simplicity of this verse is the will of many for their own will and desire to be accomplished. When one desires their own will — not God's will — then this becomes a very difficult verse to understand. The point is to let go of our own desires and work only toward God's desires. 1 John 3:20-21 gives more context:
21 Beloved, if our heart does not condemn us, we have confidence before God; 22 and whatever we ask, we receive from Him, because we keep His commandments and do the things that are pleasing in His sight.
Asking according to the will of God necessarily requires that we know His will. We must constantly engage ourselves in the process of conforming ourselves to Him, that we may have the confidence to ask according to His will. A conformance with His will necessarily require that we keep His commandments and do what is pleasing in His sight. If we do not keep His commands, then He will not hear our prayers — because we will not understand what His will is. To this end, John 9:31 says,
We know that God does not listen to sinners; but if someone is God-fearing and does His will, He listens to him.
Being sinful and not keeping the Lord's commands are tantamount to one another. Psalm 66:18 says,
If I regard wickedness in my heart, The Lord will not hear;
Psalm 145:19 says,
He will fulfill the desire of those who fear Him; He will also hear their cry for help and save them.
Or Proverbs 15:29,
The Lord is far from the wicked, But He hears the prayer of the righteous.
Again, the Lord tells us that keeping His commands naturally results in us receiving His will in John 15:14-15,
14 You are My friends if you do what I command you. 15 No longer do I call you slaves, for the slave does not know what his master is doing; but I have called you friends, because all things that I have heard from My Father I have made known to you.
He also said in John 14:23,
If anyone loves Me, he will follow My word; and My Father will love him, and We will come to him and make Our dwelling with him.
If we keep His commands — and we become conformed to His righteousness — we become conformed in our minds to the will of God. James teaches us likewise in James 4:2-4,
2 You lust and do not have, so you commit murder. And you are envious and cannot obtain, so you fight and quarrel. You do not have because you do not ask. 3 You ask and do not receive, because you ask with the wrong motives, so that you may spend what you request on your pleasures. 4 You adulteresses, do you not know that friendship with the world is hostility toward God? Therefore whoever wants to be a friend of the world makes himself an enemy of God.
James tells us that if we ask according to the world — or to spend our requests on our own pleasures — then we will not receive. Our focus in asking must always be the betterment of the Kingdom. We may only know what constitutes the betterment of the Kingdom if we are following the Lord's commands.
If we are striving to be friends of God — as opposed to friends with the world — we will strive to keep the Lord's commands. We will strive to work towards the will of God, which is the heavenly city — which is His will. If we are striving towards His will — and if we know His will — then we will have whatever we ask in prayer.
ASK IN FAITH
The Lord gave a very peculiar lesson on prayer and faith in Luke 18:1-8,
1 Now He was telling them a parable to show that at all times they ought to pray and not become discouraged, 2 saying, "In a certain city there was a judge who did not fear God and did not respect any person. 3 Now there was a widow in that city, and she kept coming to him, saying, 'Give me justice against my opponent.' 4 For a while he was unwilling; but later he said to himself, 'Even though I do not fear God nor respect any person, 5 yet because this widow is bothering me, I will give her justice; otherwise by continually coming she will wear me out.'" 6 And the Lord said, "Listen to what the unrighteous judge *said; 7 now, will God not bring about justice for His elect who cry out to Him day and night, and will He delay long for them? 8 I tell you that He will bring about justice for them quickly. However, when the Son of Man comes, will He find faith on the earth?"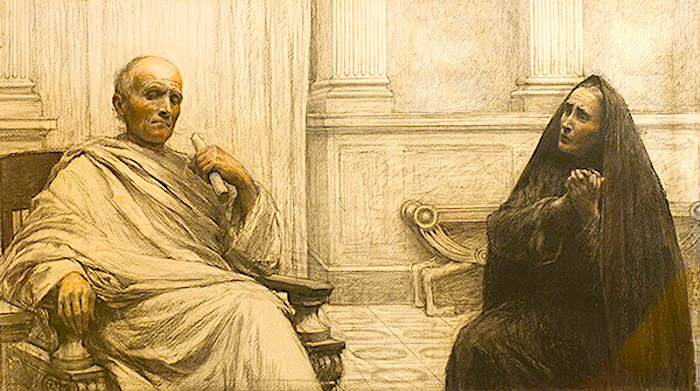 Immediately in verse 1 Luke tells us what the purpose of the parable was — pray at all times and do not become discouraged. The parable ends by the words, "will He find faith on earth?" With these words, the Lord is saying that to not adhere to this teaching and to apply it, means having a lack of faith. In other words, if we do not pray at all times and become discouraged, then we lack faith.
These are the prime tenets of prayer and we must hold them firmly in our prayer lives.
The parable itself makes this teaching all the more vivid. It was none other than the widow's unfailing resolve in coming to the judge which caused him to give her justice — "she kept coming to him." Likewise, when we pray we must keep coming to God at all times, never being discouraged.
Given that we should ask only according to God's will, we should not be discouraged if our prayers are not answered. We must have faith in the Lord's ability to bring us to the place where we understand His will — if indeed we ask for His righteousness and the knowledge of His will as well. If we ask for something which we do not receive and we are discouraged, then we are only admitting that God's will discourages us.
We are not accusing anyone who is discouraged, but rather we are encouraging that person who is discouraged. We should see it as an opportunity to better understand where our own will is not aligned with God's will. God's will towards His Kingdom is far better than our will towards it — but if by endurance we come to know His will, we will rejoice.
If our conscience bears witness that we are asking according to the good of the Kingdom, then we should ask until such time as God makes known His will to us. Do not lose courage and do not lose faith.
The Lord gives another lesson on prayer in Luke 11:5-8,
5 And He said to them, "Suppose one of you has a friend, and goes to him at midnight and says to him, 'Friend, lend me three loaves, 6 because a friend of mine has come to me from a journey and I have nothing to serve him'; 7 and from inside he answers and says, 'Do not bother me; the door has already been shut and my children and I are in bed; I cannot get up and give you anything.' 8 I tell you, even if he will not get up and give him anything just because he is his friend, yet because of his shamelessness he will get up and give him as much as he needs.
Who would possibly think to go to their neighbor at some early hour of the morning and ask for food? The Lord describes this behavior as "shameless." However, in spite of it being shameless, He encourages us to adopt this very attitude when we pray. As with the parable of the widow and the judge, many people are tripped up in their understanding because they perceive the behavior as negative.
They think, "I don't want to be shameless" — or, "I don't want to be bothersome like that widow." On the contrary, we encourage people to accept the lesson for what it is: The Lord teaches us how to have our desire granted to us by prayer — be shameless! If we are asking only according to the will of God and the good of His Kingdom, why would we be ashamed over anything we ask — no matter how large?
He goes on to elaborate on this lesson in Luke 11:9-13,
9 "So I say to you, ask, and it will be given to you; seek, and you will find; knock, and it will be opened to you. 10 For everyone who asks receives, and the one who seeks finds, and to the one who knocks, it will be opened. 11 Now which one of you fathers will his son ask for a fish, and instead of a fish, he will give him a snake? 12 Or he will even ask for an egg, and his father will give him a scorpion? 13 So if you, despite being evil, know how to give good gifts to your children, how much more will your heavenly Father give the Holy Spirit to those who ask Him?"
The Lord specifically addresses those who are worried about coming across as shameless. He compares it to a child asking for food from their father — do you really think he is going to punish you for it?
We must emphasize a critical caveat here — ask according to the realization of the Kingdom of God. When we pray, our interests must be His Kingdom — we must ask shamelessly for the means and success in furthering it. At the end of the lesson, the Lord similarly qualifies it by saying, "how much more will your heavenly Father give the Holy Spirit to those who ask Him?"
In this teaching, the Lord has made a promise to us that if we ask for the Holy Spirit and the ability to further the Kingdom, we "will find" and "it will be opened." Guaranteed — there's no reason to doubt it. However, we must pray at all times, never be discouraged, and always be shameless.
James gives us some great instruction on prayer in James 1:5-8,
5 But if any of you lacks wisdom, let him ask of God, who gives to all generously and without reproach, and it will be given to him. 6 But he must ask in faith without any doubting, for the one who doubts is like the surf of the sea, driven and tossed by the wind. 7 For that person ought not to expect that he will receive anything from the Lord, 8 being a double-minded man, unstable in all his ways.
Wisdom is a good example of something one should ask for shamelessly, because God gives it to all generously. By the grace and gift of the Lord Jesus, it is free. So we might as well approach Him and receive it with gladness. However, we should not ask with a double-mind — doubting that we will receive from the Lord. But what does James mean when he said "double-minded?" James 4:8 says,
Come close to God and He will come close to you. Cleanse your hands, you sinners; and purify your hearts, you double-minded.
James teaches us that those who will not come close to God, will not cleanse their hands — who are sinners and have not purified their hearts — are naturally double-minded. He confirms this when he speaks of the Godly wisdom — which we receive from asking in prayer (James 1:5) — in James 3:14-18,
14 But if you have bitter jealousy and selfish ambition in your heart, do not be arrogant and so lie against the truth. 15 This wisdom is not that which comes down from above, but is earthly, natural, demonic. 16 For where jealousy and selfish ambition exist, there is disorder and every evil thing. 17 But the wisdom from above is first pure, then peace-loving, gentle, reasonable, full of mercy and good fruits, impartial, free of hypocrisy. 18 And the fruit of righteousness is sown in peace by those who make peace.
James lays two kinds of wisdom before us. Firstly, he describes the wisdom of the world, which presents itself with bitter jealousy and selfish ambition — contrary to the desire for the Kingdom of God. If our desire is for the Kingdom, then our desires are outward focused. If we have selfish ambition, then we desire only according to ourselves and our own wants — inward focused. Remember how James said, "you ask with the wrong motives… that you may spend what you request on your pleasures." (James 4:3)
The Kingdom is about God's ways — not our fleshly pleasures. James says that to think this way is to lie against the truth in arrogance — it is earthly, natural and demonic — not heavenly and spiritual, like the Kingdom of God.
The other kind of wisdom is the wisdom which is from above — the wisdom we should ask for shamelessly and strive to have. It is pure, peace-loving, gentle, reasonable, fully of mercy, has good fruits, impartial and free of hypocrisy. We must exhibit this behavior in interpersonal matters with our brethren — we do not have the luxury of "personal enemies" regarding worldly matters. Likewise, we cannot be partial towards people who are "arrogant and so lie against the truth" because we think we stand to gain something from them — whether company, financial gain or some other selfish desire.
If we ask for wisdom — knowing that we are asking for the wisdom which is from above — then we must ask shamelessly, because God gives it freely to those who ask. Ask in faith, because it will be given freely — guaranteed. From there, each one will be well on their way to conforming with God's will and having their prayers answered, just as James says in James 5:16,
A prayer of a righteous person, when it is brought about, can accomplish much.
ASK WITH COURAGE
In Luke 14:26-33, the Lord provides a very pertinent lesson explaining what our mindset should be when we desire to partake in the Kingdom,
26 "If anyone comes to Me and does not hate his own father, mother, wife, children, brothers, sisters, yes, and even his own life, he cannot be My disciple. 27 Whoever does not carry his own cross and come after Me cannot be My disciple. 28 For which one of you, when he wants to build a tower, does not first sit down and calculate the cost, to see if he has enough to complete it? 29 Otherwise, when he has laid a foundation and is not able to finish, all who are watching it will begin to ridicule him, 30 saying, 'This person began to build, and was not able to finish!' 31 Or what king, when he sets out to meet another king in battle, will not first sit down and consider whether he is strong enough with ten thousand men to face the one coming against him with twenty thousand? 32 Otherwise, while the other is still far away, he sends a delegation and requests terms of peace. 33 So then, none of you can be My disciple who does not give up all his own possessions.
In this teaching, the Lord describes fleshly motives — family and possessions. He likens the giving up of these things with carrying one's own cross and coming after Him. In saying this, He tells us that we should be prepared to walk just as He walked. Elsewhere He words it another way saying, "Are you able to drink the cup that I am about to drink?" (Matthew 20:22)
The Lord teaches us if that we are not prepared to give up all of these things — just as He gave them up — then we cannot be His disciples. He compares this principle with undertaking a project or going to battle. We do not undertake these things on a whim without considering whether we are able to do what we set out to do. Elsewhere the Lord says that "many… will seek to enter and will not be able." (Luke 13:24)
Now make no mistake, that is a hard thing to hear. However, if we put these two things together, why is it that someone would seek to enter and not be able? It is because they didn't first consider what the cost would be and whether they would be able to follow through with it.
Everything involved in taking up our own cross seems incredibly daunting. To be honest, what does it even mean to give up family and possessions? The confusion and fear over these prospects make people want to believe that the Lord is meaning something other than what He is saying. However, we must let His words be true and let the fear within our hearts be the liar. We must understand that He has told us the cost of following Him — a giving up of family, possessions and even our lives.
At the outset, unless we are fine with losing everything, then we should not bother to try to partake in the Kingdom.
We also need to understand that not knowing how that actually applies to our lives right now is okay. Don't worry if you don't know how and when you're going to pay that cost. Just know that is what it's going to cost — and never let go of that in your heart.
Everyone's flesh is weak — no exceptions. We are selfish, we lack good judgement, we have no idea how to apply these things. We are even afraid to lose everything — which is quite normal. However, this is our opportunity to be shameless. To this end Paul says in Romans 8:15-17,
15 For you have not received a spirit of slavery leading to fear again, but you have received a spirit of adoption as sons and daughters by which we cry out, "Abba! Father!" 16 The Spirit Himself testifies with our spirit that we are children of God, 17 and if children, heirs also, heirs of God and fellow heirs with Christ, if indeed we suffer with Him so that we may also be glorified with Him.
In light of the glory with which we will be glorified with the Lord Jesus, do not be afraid. "Be on the alert, stand firm in the faith, act like men, be strong." (1 Corinthians 16:13) The cost of this life will pale into insignificance — for it is "just a vapor that appears for a little while, and then vanishes away." (James 4:14) If only we can hang onto the knowledge of the cost, then we do not receive a spirit of slavery and fear, but we cry out, "Abba! Father!"
This is our opportunity to ask. We are weak, but He is strong. We have failed, but He has succeeded. How much more is He able to achieve His purposes in us, if only we will give ourselves freely to Him?
We acknowledge that in our flesh we are not able to achieve what He expects of us. Between us and Him there is a gaping chasm — unpassable and daunting. However, if anyone was ever able to cross that chasm in their own strength, then the Lord would have had no need to save us. We are not alone in weakness, just as Paul quotes Psalm 14:1, "There is no righteous person, not even one." (Romans 3:10) In that regard, we are all in good company with one another.
If anyone thought they could cross that chasm without the shameless supplication for help — having only the good of the Kingdom in mind, then they have deluded themselves. Only the power of the Lord Jesus and the Holy Spirit of His Father can do it in us. But that help will not come if we do not ask shamelessly in prayer — never being discouraged and never losing faith.
We come to the Father saying, "Glorious Father, to You alone belongs the beginning of righteousness and goodness. Being pitiful, I have been sealed in sin, but You have promised us the greater grace — because You are merciful and You are gracious, abounding in love and good gifts. I want only Your Kingdom and not my own selfish desires. I know the cost of being a disciple of the Lord Jesus, but I can't find the strength or even the wisdom in myself to do it. Take me upon Your pinions and fly me across that chasm. Cleanse my sin. Give me wisdom. Show me Your ways. Let me drink the cup of the Lord Jesus and take my own cross and follow Him. Everything that is mine is Yours — take it all. Only let me stand before your Son clean and pure that He may say to me, 'Well done, good and faithful servant.'"
That is some audacity, isn't it? But He gives it to us freely and generously. We need only ask it and know what we're getting ourselves into when we do ask. We must also know the glory and honor which awaits in His Kingdom.
ASK WITH ENDURANCE
This attitude and prayer marks the beginning of a journey which will require endurance. In Matthew 13:31-32 the Lord gives us a well known parable:
31 He presented another parable to them, saying, "The kingdom of heaven is like a mustard seed, which a person took and sowed in his field; 32 and this is smaller than all the other seeds, but when it is fully grown, it is larger than the garden plants and becomes a tree, so that the birds of the sky come and nest in its branches."
Many Christians believe that they have attained righteousness as soon as they become Christians. Or they believe that they have attained righteousness without ever asking for it. If we consider the parable of the mustard seed and the principles of prayer, this is not the case.
Each one of us must start off small like the meager mustard seed — foolish, timid and incapable of producing good fruit. However, that mustard seed must know that its destiny is to become a tree, the likes of which will be a home for all the birds of the sky. Although Zechariah 4 has a specific application, its words in verses 6-7 are useful in understanding our place in this journey:
6 … 'Not by might nor by power, but by My Spirit,' says the Lord of armies. 7 'What are you, you great mountain? Before Zerubbabel you will become a plain…
Though we seem like a mustard seed in our own sight and though there seems to be a great mountain before us, by the Spirit of God we will become a tree and the mountain will be removed. Verse 10 hammers home this point:
For who has shown contempt for the day of small things?
We are not to show contempt for the day of small things and the pitiful state of our strength in the flesh. The Lord confirms what is the destiny of that mustard seed in Matthew 17:20,
… for truly I say to you, if you have faith the size of a mustard seed, you will say to this mountain, 'Move from here to there,' and it will move; and nothing will be impossible for you.
Likewise, James 5:17-18 says,
17 Elijah was a man with a nature like ours, and he prayed earnestly that it would not rain, and it did not rain on the earth for three years and six months. 18 Then he prayed again, and the sky poured rain and the earth produced its fruit.
It's incredible that James says "Elijah was a man with a nature like ours." Sometimes we forget that the heroes of faith were people just like us. When we read of them, we might be tempted to believe that had a mystically strong will or that it was easy for them. On the contrary, they were of like nature to us. In truth, they were just better than us — having faith in their God to bring about His righteousness in their lives. Elijah — a man like us — was even taken up to heaven and stood with the Lord Jesus in glory at His transfiguration.
Again, we must be shameless — we cannot be small-minded in our prayers. We must seek to flatten mountains, stop the rain, be a tall mustard tree and most importantly of all — to have the Lord Jesus cleanse us of all sin "that we might become the righteousness of God in Him." (2 Corinthians 5:21) None of this for the sake of our own glory, selfishness or vain ambitions — but for the glory of God and His Kingdom.
We must be as shameless as a man who asks his neighbor for bread at night, and as tenacious as an old woman who pesters a judge for justice.
Yet we must always remember that it will be a journey of endurance — and just as Israel was tested in the wilderness, so will our desires and our faith be tested. Deuteronomy 8:2-7 says,
2 And you shall remember all the way which the Lord your God has led you in the wilderness these forty years, in order to humble you, putting you to the test, to know what was in your heart, whether you would keep His commandments or not. 3 And He humbled you and let you go hungry, and fed you with the manna which you did not know, nor did your fathers know, in order to make you understand that man shall not live on bread alone, but man shall live on everything that comes out of the mouth of the Lord. 4 Your clothing did not wear out on you, nor did your foot swell these forty years. 5 So you are to know in your heart that the Lord your God was disciplining you just as a man disciplines his son. 6 Therefore, you shall keep the commandments of the Lord your God, to walk in His ways and to fear Him. 7 For the Lord your God is bringing you into a good land, a land of streams of water, of fountains and springs, flowing out in valleys and hills;
Let us consider then — was the Lord prepared to let Israel die in the wilderness if they had kept faith? In spite of the Lord willing to bring them into a good land, He still allowed them to be humbled and hunger. Yet by His graciousness, He gave them every strength and opportunity to succeed — if only they would have the faith to know that "man shall live on everything that comes our of the mouth of the Lord."
If the Israelites were all tested in the wilderness and died, how much more should we be tested? Every Christian must undergo this journey if they have a hope to become partakers of the Kingdom — "It is through many tribulations that we must enter the kingdom of God." (Acts 14:22) Hebrews 12:7-8 says,
7 It is for discipline that you endure; God deals with you as with sons; for what son is there whom his father does not discipline? 8 But if you are without discipline, of which all have become partakers, then you are illegitimate children and not sons.
The writer states that we have all become partakers in discipline, so there should be no Christian who thinks that they will not be partakers in discipline. He calls those who have not been disciplined "illegitimate children and not sons." The Lord goes as far as to say, "Those whom I love, I rebuke and discipline." (Revelation 3:19) If we are loved by Him, we must expect His rebuke and discipline.
Yet we should not lose heart or fear at these facts. If we have faith and pray, keeping our minds on the Kingdom — instead of our own selfish desires — then we will have victory — come what may. The New Testament Scripture tells us over and over again to expect this. 1 Peter 1:5-7 says,
5 [You] who are protected by the power of God through faith for a salvation ready to be revealed in the last time. 6 In this you greatly rejoice, even though now for a little while, if necessary, you have been distressed by various trials, 7 so that the proof of your faith, being more precious than gold which perishes though tested by fire, may be found to result in praise, glory, and honor at the revelation of Jesus Christ
Peter tells us that we have the protection of the power of God when we have faith, so that we should not fear what lies before us. The trials of the flesh are but momentary, whereas we have a salvation ready to be revealed. Peter compares our faith to gold, which must go through the furnace and have the impurities burned away by fire. This is the proof of our faith, that results in the glory of Jesus Christ — what a privilege. 1 Peter 4:12-13 says,
12 Beloved, do not be surprised at the fiery ordeal among you, which comes upon you for your testing, as though something strange were happening to you; 13 but to the degree that you share the sufferings of Christ, keep on rejoicing, so that at the revelation of His glory you may also rejoice and be overjoyed.
Just as we have been explaining, upon undertaking this journey no one must be surprised when they are called to share in the sufferings of Christ to some degree. On the contrary, we must rejoice in those sufferings. Why would we not want to partake in the things the Lord Jesus did — that we may know Him all the more intimately? Especially considering the power of God protects us all throughout? Romans 5:3-5 says,
3 And not only this, but we also celebrate in our tribulations, knowing that tribulation brings about perseverance; 4 and perseverance, proven character; and proven character, hope; 5 and hope does not disappoint, because the love of God has been poured out within our hearts through the Holy Spirit who was given to us.
Paul tells us that when we go through these things — and we persevere in the faith and power of God — we will have our character proven to us in the sight of God (2 Corinthians 7:12). In these things we have an iron-clad hope — it does not fail us like our flesh — rather other people or worldly things fail us. 2 Thessalonians 1:4-5 says,
4 As a result, we ourselves speak proudly of you among the churches of God for your perseverance and faith in the midst of all your persecutions and afflictions which you endure. 5 This is a plain indication of God's righteous judgment so that you will be considered worthy of the kingdom of God, for which you indeed are suffering.
Paul calls this perseverance and faith in the fact of affliction a "plain indication" of worthiness to partake in the Kingdom. If we have such "plain indication" in our lives, then we should rejoice when they come upon us and be courageous in our hearts towards the Kingdom. James 1:2-4,12 says,
2 Consider it all joy, my brothers and sisters, when you encounter various trials, 3 knowing that the testing of your faith produces endurance. 4 And let endurance have its perfect result, so that you may be perfect and complete, lacking in nothing… 12 Blessed is a man who perseveres under trial; for once he has been approved, he will receive the crown of life which the Lord has promised to those who love Him.
Yes, we want to be "perfect and complete, lacking in nothing" — that is the very thing we ask for in shamelessness and tenacity when we pray to the Father. He promises the "crown of life" to those who love Him — keeping His commands (John 14:15) — but they must be approved and have persevered under trial. We must be like David in 2 Samuel 7 and ask God to confirm that promise in us.
This cleansing which Christians must undergo is even a fulfillment of the Old Testament prophecies. Malachi 3:2-3 says,
2 But who can endure the day of His [Christ Jesus] coming? And who can stand when He appears? For He is like a refiner's fire, and like launderer's soap. 3 And He will sit as a smelter and purifier of silver, and He will purify the sons of Levi and refine them like gold and silver, so that they may present to the Lord offerings in righteousness.
Isaiah 1:25-26 says,
25 I will also turn My hand against you, And smelt away your impurities as with lye; And I will remove all your slag. 26 Then I will restore your judges as at first, And your counselors as at the beginning; After that you will be called the city of righteousness, A faithful city.
Daniel 12:10 says,
Many will be purged, cleansed, and refined, but the wicked will act wickedly; and none of the wicked will understand, but those who have insight will understand.
Let us then be those who have insight who understand. Haven't the New Testament writers made it clear enough?
As little mustard seeds which have faith to become mustard trees, we must know that we will undertake a journey of endurance. It is not the approval of men or our own self-righteousness or self-justification which proves our faith — but rather it is the approval of God which comes through trials. When we hold on to those promises in faith — asking for them with courage — then the power of God will refine us and make us into servants which are acceptable to Him.
We also must understand that the cost of being a Christian — recalling our discussion of Luke 14:26-33 — is not something we need to try to bring upon ourselves. We need only to understand what we may need to give up as Christians. When we understand the cost — and we ask to be partakers of the Kingdom — the Lord Jesus will decide how He will refine us and what impurity needs to be burned from us.
Once this process begins, we are not to look back on what we have lost, just as the Lord said, "Remember Lot's wife." (Luke 17:32) Also, "No one, after putting his hand to the plow and looking back, is fit for the kingdom of God." (Luke 9:62)
We must have faith that He will refine us and that He will make us into a tall tree. It will be a hard journey, but victory is guaranteed. Hebrews 12:11 kindly reassures us,
For the moment, all discipline seems not to be pleasant, but painful; yet to those who have been trained by it, afterward it yields the peaceful fruit of righteousness.
ASK WITH DEVOTION
If we look to the example of the New Testament church, we find that prayer was a core part of their lives. Soon after the Lord had ascended to the right hand of His Father, Acts 1:14 says,
All these were continually devoting themselves with one mind to prayer, along with the women, and Mary the mother of Jesus, and with His brothers.
If even the apostles and the core of the Lord's disciples were continually devoting themselves to prayer, then why is prayer so neglected among Christians today? Why don't we continually devote ourselves to prayer? Acts 2:42 says of the newer converts who came after that,
They were continually devoting themselves to the apostles' teaching and to fellowship, to the breaking of bread and to prayer.
To our reading, the interpretation and application within our own lives seems to be quite clear. If the first Christians devoted themselves to prayer, then we should devote ourselves to prayer. The apostles and disciples witnessed the glorious miracles and resurrection of the Lord first hand. Their faith was soaring at heights we could not imagine. Often when reading the Scripture, we somehow do not acknowledge that their devotion to prayer was the result of that faith.
Recall the Lord said in Luke 18:8, "Will He find faith on earth?" Being devoted to prayer is the result of faith — and not being devoted to prayer is the result of the lack of faith. Samuel even considered it a sin for himself to cease praying for Israel in 1 Samuel 12:23,
Furthermore, as for me, far be it from me that I would sin against the Lord by ceasing to pray for you; but I will instruct you in the good and right way.
If prayer results from faith, then it is no wonder Samuel considered it sin not to pray given that "whatever is not from faith is sin." (Romans 14:23) Paul gives a similar command in Romans 12:10-13,
10 Be devoted to one another in brotherly love; give preference to one another in honor, 11 not lagging behind in diligence, fervent [Strong's G2204 — boiling hot] in spirit, serving the Lord; 12 rejoicing in hope, persevering in tribulation, devoted to prayer, 13 contributing to the needs of the saints, practicing hospitality.
What is it about modern Christianity that prayer has become an afterthought? Paul commands us that we are not to lag in diligence and that in our spirit we must be hot. In the context of what Paul is saying, what would represent a lag in diligence and not being hot in our lives? Not being devoted to brotherly love, not giving preference to one another, not rejoicing in hope, not persevering in tribulation and no devotion to prayer.
Being diligent and hot represents an all-consuming desire towards the furtherance of the Kingdom. Everything in life must be secondary to this cause.
Part of this all-consuming desire is a devotion to prayer. This is a duty and work of ours where we have to do it — it's not an option. If we do not devote ourselves to prayer, then we admit that we are not truly devoted to the Kingdom of God. As we have stated already, if no one is praying for the Kingdom of God, then it will not move forward in any case. After all, here we are almost two thousand years after the Lord ascended, when the apostle's expectation was that the Lord would return soon. It's high time for us to change that.
In Luke 18:7-8 the Lord strongly connects this idea with His own coming when He says,
…will God not bring about justice for His elect who cry out to Him day and night, and will He delay long for them? I tell you that He will bring about justice for them quickly.
He literally states that He will not delay long over His elect who pray to Him day and night.
Either this is a false promise — or Christianity has been sorely deficient for almost two thousand years. The bitter irony of it all is that it's not as though prayer is hard to do. We have been so lackluster and lazy, that we have neglected the simplest and easiest part of the Christian life.
Without going into the passage too in depth, consider for a moment Revelation 8:3-5,
3 Another angel came and stood at the altar, holding a golden censer; and much incense was given to him, so that he might add it to the prayers of all the saints on the golden altar which was before the throne. 4 And the smoke of the incense ascended from the angel's hand with the prayers of the saints before God. 5 Then the angel took the censer and filled it with the fire of the altar, and hurled it to the earth; and there were peals of thunder and sounds, and flashes of lightning and an earthquake.
With this in mind, we can conclude that without the prayers of all the saints, the events of the Revelation would not continue from this point onward. Prayer is so crucial that it is a step in the final events which cannot be missed. The prayers of the saints cause the very heavens to prepare to sound its trumpets and unleash God's wrath upon the earth.
This is what it means to be devoted to prayer — and its power to move the Kingdom of God. This is the end-state of our prayer lives and should be our desire.
Remember that the Lord said, "will He delay long for them?" In Revelation 22:20 the Lord says, "Yes, I am coming quickly." What does John say in return? "Amen. Come, Lord Jesus." Just like when David asked for the Davidic covenant when it had just been promised to him, John asks for the coming of the Lord when it has just been stated.
If events such as these are predicated on prayer — despite being promised already — how much more should we pray for the Spirit in our lives and in our brethren's lives? Indeed, we must be devoted to prayer because it is necessary to do so. If we do not devote ourselves to prayer, our lives will not change for the better — and the Kingdom will not move forward. It is that simple.
With the above in mind, consider some examples of prayer in the Scripture. In Acts 9, just after Paul had received his vision on the road to Damascus, for three days he "neither ate nor drank" (verse 9) and "he is praying." (verse 11) When we consider what Paul was going through in these moments, we realize how endearing his reaction to the vision was.
Paul realized in the most jarring manner that he wasn't as righteous as he thought he was. On the contrary, he was a sinner. He reacted by completely ceasing to consume anything and turned to prayer. He knew that humbling himself before the Lord and making supplication to Him was the only way out. Even though the Lord intended to use Paul, it took three days of Paul fasting and praying before Ananias was sent to Paul to return his sight to him.
We can't help but think that Paul is so much better than us in the severity of his reaction. We are reminded of the words of the Lord to king Josiah of Judah in 2 Chronicles 34:27,
Because your heart was tender and you humbled yourself before God when you heard His words against this place and its inhabitants, and because you humbled yourself before Me, tore your clothes, and wept before Me, I have indeed heard you.
Another example is Acts 10:1-4, which says,
1 Now there was a man in Caesarea named Cornelius, a centurion of what was called the Italian cohort, 2 a devout man and one who feared God with all his household, and made many charitable contributions to the Judean people and prayed to God continually. 3 About the ninth hour of the day he clearly saw in a vision an angel of God who had just come in and said to him, "Cornelius!" 4 And he looked at him intently and became terrified, and said, "What is it, lord?" And he said to him, "Your prayers and charitable gifts have ascended as a memorial offering before God."
As we learn later in Acts 10, Cornelius was the first non-Israelite to receive the Holy Spirit. The angel who appeared to him spelled out exactly why he was getting special attention from God — one of the two reasons being that he "prayed to God continually." This was received "as a memorial offering before God." We should also pray continually in the hope that we too may make a memorial offering before God.
Acts 12, relates how James the apostle was murdered — "executed by the sword" (verse 2) — by Herod. After that, Herod proceeded to arrest Peter as well. In verse 5 it says,
So Peter was kept in the prison, but prayer for him was being made to God intensely by the church.
We should note that Peter's destiny was to be crucified (John 21:18-19). There was no way he was going to be "executed with the sword," which was how James was killed. Evidently those who were praying for Peter didn't know that, yet the Scripture strongly connects this idea of praying for Peter with his supernatural release. So then, what would have happened if they didn't pray for Peter? Would Herod have executed Peter with the sword as well? That's impossible, because Peter's destiny was to be crucified.
Perhaps the church in Jerusalem was meant to pray for Peter — fitting the pattern of having to pray for things which have already been promised. They were not lagging in diligence either, as they were praying intensely for him.
In truth, examples of prayer fill the Scripture to the brim. We have covered merely some instances in the Acts, but many stories of the Old Testament involve prayer in some way or another. Of course prayer fills the gospels as well, as the Lord prayed often. We need to pay attention to this habit and mimic it with all diligence.
Although it is not as though we need to simply surmise that we need to pray based on the examples of the characters of the Acts. Paul commands us plainly in Colossians 4:2,
Devote yourselves to prayer, keeping alert in it with an attitude of thanksgiving
ASK WITH REVERENCE
Some may ask at this point, "But what is prayer? What does it look like in practice? How do I do prayer?" The beauty of the Scripture is that we do not have to guess at what prayer is when we practice it. We do not need to make up our own ideas. We need only look to the examples of the characters of Scripture and do what they did.
An idea persists with many Christians that prayer in practice is something other than what we have in the examples of the Scripture. These Christians believe that prayers is meditation — or that it is something we think — a "constant relationship" and "conversation" we have with God in our minds.
Meditation certainly does have an important place in the life of any Christian. However, meditation and prayer are not the same activity — and they do not achieve the same goals. Psalm 119:15 says of meditation,
I will meditate on Your precepts And regard Your ways.
Without getting too in depth, the purpose of meditation is active mental effort toward the understanding of God's ways. In it we reflect on ourselves and our actions in relation to the teachings and commands in Scripture. We reflect on our surroundings and the world in relation to God's plan and promises.
Therefore, meditation is practical — and it serves a purpose. We actively engage our minds in the furtherance of the Kingdom. This is not the same thing as prayer. There is no example in the Scripture where anyone pursues prayer as a relationship conducted in thought or meditation.
As we have discussed already, prayer is practical which serves the purpose of furthering the work of the Holy Spirit in our lives and the Kingdom of God. We pray because we make supplication to our God — it is specific and purposeful. Likewise, meditation serves a practical purpose.
What does a "conversation" or "relationship" in our minds prove? Is there any example of it in the Scripture? If it does not serve a practical purpose — and it is not taught in the Scripture — then why is the idea so prevalent among Christians? Some Christians quote 1 Thessalonians 5:17 to prove this view:
pray without ceasing
The word for "without ceasing" is "adialeiptós" (Strong's G89), which refers to a kind of incessance or constancy. They argue that this refers to the need to be meditating in prayer always in one's own mind. However, this verse does not prove the idea of "meditative prayer" — rather those who make this argument only assume the idea of meditative prayer.
As we have shown, there is no example of prayer being meditative in the Scripture, so there is no reason to assume that this is a reference to meditative prayer. Rather, it is a command for us to be devoted to prayer and let no occasions of life interrupt us from praying. Prayer is something we must always do, no excuses. However, we will get into the topic of devotion to prayer shortly.
An implicit way that we know prayer does not happen in thought or meditation is that the majority of our prayer should be done in private. The Lord commands in Matthew 6:6,
But as for you, when you pray, go into your inner room, close your door, and pray to your Father who is in secret; and your Father who sees what is done in secret will reward you.
Why would the Lord command us to pray in private if prayer is something which happens within our minds?
Remember, we are not praying to spend our requests on our pleasures. We are not praying to have others see us pray. Whenever we pray, it is for the furtherance of the Kingdom. If we do not have a Kingdom reason to be seen or heard praying, then we should endeavor not to be seen or heard when we pray.
The Lord Himself mostly removed Himself from other's eyes in order to pray. Matthew 14:23 says,
After He had sent the crowds away, He went up on the mountain by Himself to pray; and when it was evening, He was there alone.
Mark 1:35 says,
And in the early morning, while it was still dark, Jesus got up, left the house, and went away to a secluded place, and prayed there for a time.
Luke 5:16 says,
But Jesus Himself would often slip away to the wilderness and pray.
In alignment with His own teaching, He would remove Himself from company to pray in private. We also have examples of Him praying in public when it was for the betterment of those around Him. The Lord provides a good example with His short prayer before bringing Lazarus back from the dead in John 11:41-42,
41 So they removed the stone. And Jesus raised His eyes, and said, "Father, I thank You that You have heard Me. 42 But I knew that You always hear Me; nevertheless, because of the people standing around I said it, so that they may believe that You sent Me."
If we are to pray in public, we must be sure that it is for the betterment of others and the furtherance of the Kingdom. We are not to pray out of vanity.
When we pray, we are also to do so with due reverence. If we were to imagine ourselves before the Lord Himself, we would be sure to act and speak in deference. This seems like a strange thing to address, but modern society has taken a strange stance in regard to prayer. Due to our modern sensibilities, we have somehow lost the respect we should have in an audience with God.
The result is that many modern Christians desire a casual relationship with the God of all reality. Viewing Christianity through the humanist and charismatic lens, many think God is their "buddy." Make no mistake, God is not a supporting character in our lives — He is not our "buddy." We are the supporting characters in the life of His son, the Lord Jesus. Our mighty God is holy and He is a consuming fire.
Some will even take offense at the prospect of having to humble themselves before God; however, no-one in the Scripture engages in this kind of behavior — ever. If we are acting different from those in Scripture, shouldn't we be looking to conform ourselves to them?
There are many examples of Scriptural characters adopting submissive positions while praying:
Abraham's servant "bowed low" — Genesis 24:48
Moses "bowed low" — Exodus 34:8
Solomon "knelt on his knees" — 2 Chronicles 6:13
David "sat before the Lord" — 2 Samuel 7:18
Daniel was "kneeling on his knees" — Daniel 6:10
The Lord "fell on His face" — Matthew 26:39
The Lord "knelt down" — Luke 22:41
Peter "knelt down" — Acts 9:40
Paul "knelt down" — Acts 20:36
Admittedly, it is not as though God needs us to be in a certain position in order to hear us. We are not prescribing a specific position in which to pray. However, we cannot deny the reverence which the heroes of faith showed to our God. If we do not have a desire to show that same reverence, then how does that reflect on us? How are we superior to them that they — even the Lord Himself — show reverence to God when praying — and we do not?
If we rail at being humble before God, then perhaps that is a reflection on the state of our hearts — and perhaps that is part of the point. The Lord appreciates those who are humble, just as it says in Psalm 25:9,
He leads the humble in justice, And He teaches the humble His way.
Therefore, let us show our humility to the all-powerful God. Let us show our heart's submission by the humbling of our bodies before Him. The examples set forth in Scripture did it — and Christ Jesus did it, so let us follow their example.
In summary, prayer is not something which happens inside our heads. We do not pray as if we have some casual and irreverent "relationship" with God. When we pray, we do it in private — unless some circumstance requires an audience or corporate prayer. We also do it with due humility towards God — bearing in mind that to Him we are like grass which dies and fades the next day — and He deserves our respect.
WHAT DO I PRAY FOR? WHERE DO I START?
All this information may seem rather daunting. Especially if one is hearing it for the first time or has never engaged in prayer before, one may have no idea where to start. Feeling daunted in such a case is probably quite normal. Remember, the mustard seed starts off small, but it desires to become a tree. It starts off with simply the desire — which must simply be a true desire for the Kingdom of God and not a desire for one's own selfish lusts.
A powerful admission to a dedication to the journey every Christian must undergo to become a partaker in the Kingdom is to turn Matthew 5:3-12 into a prayer:
Make me poor in spirit, that the Kingdom of heaven may be mine. Make me mourn, that I may be comforted. Make me gentle, that I may inherit the earth. Make me hunger and thirst for righteousness, that I may be satisfied. Make me merciful, that I may receive mercy. Make me pure in heart, that I may see God. Make me a peacemaker, that I may be called a son of God. Make me persecuted for the sake of righteousness, that I may have the Kingdom of heaven. Make me persecuted falsely and have all kinds of evil said against me, that I may rejoice and be glad for my great heavenly reward.
To pray this prayer and to truly mean it — having the good of the Kingdom held firm in one's heart — is a great start. Certainly it takes courage to pray this prayer, but do not worry — the Lord is ready and able to take anyone through this journey and the result is all the promises promised in Matthew 5:3-12.
We must include a friendly warning with this prayer however: Hopefully you are ready for the Lord Jesus to hear you when you ask. Assuming your heart is true to the Kingdom, it will definitely be answered.
As for a daily prayer, we would suggest simply starting off with a simple, daily prayer, asking for the Lord's prayer:
Ask for the Father's will to be done in my life (Matthew 6:10) — Our journey begins with the letting go of ourselves and the taking up of the purposes of the Kingdom.
Ask for daily bread/sustenance (Matthew 6:11) — This is a powerful inoculation against the fear of the world, especially with everything that is going on. If we realize that our provision comes from God — instead of the world — and we ask for it — we become less concerned about where our bread might come from in the future. This may come as a surprise, but the only way we receive daily food is if God wills it in the first place. "It is the Lord of armies whom you are to regard as holy. And He shall be your fear, And He shall be your dread." (Isaiah 8:13)
Ask for forgiveness (Matthew 6:12) — Furthermore, make sure you know what you're asking forgiveness for. Confess your specific sins to God, as confessing our sins to Him is required of us (1 John 1:9) — it shows a heart of repentance (Psalm 38:18, Proverbs 28:13). Also, ask for the revealing of sin which you did not necessarily know about (Psalm 19:12).
Ask for help to be forgiving (Matthew 6:12) — Matthew 18:21-35 shows us that God forgives us only insofar as we are willing to forgive others for their transgressions against us in personal matters. This may or may not be surprising, but we need all the help we can get in this regard.
Ask for help and deliverance from all of the trials we face (Matthew 6:13) — Remember that the Lord Jesus even prayed for Peter when he was going to undergo trial (Luke 22:32). Again, we need all of the help we can get that the Lord may strengthen us, especially in this wicked world in which we find ourselves.
Furthermore, ask for help to become more devoted to prayer. Why not? It may seem audacious to do so, but as we already discuss, that's fine — even encouraged.
Some people feel awkward to ask for the same things every day, possibly even quoting Matthew 6:7,
And when you are praying, do not use thoughtless repetition as the nations do, for they think that they will be heard because of their many words
However, the Lord is not referring to asking for the same thing every day in this case. After all, what then about the parable of the widow who repeatedly asked the judge for justice? The Scripture encourages us to ask repeatedly as it displays our faith. After all, did Elijah not stretch himself three times over the widow's son? (1 Kings 17:21) Did he not pray seven times for the rain to come? (1 Kings 18:43) Yet "Elijah was a man with a nature like ours" (James 5:17).
Paul said that he keeps "praying most earnestly night and day" in order to see the Thessalonians (1 Thessalonians 3:10). He said he "constantly" remembers Timothy in his prayers "night and day" (2 Timothy 1:3). He said he makes mention of the Romans "unceasingly" in his prayers (Romans 1:9). Be like Paul and ask night and day for the things which you desire for the sake of the Kingdom of God.
When the Lord refers to "meaningless repetition," He is likely referring to ritualistic mantras, saying the same words over and over again, or presuming to try to explain something to God in just the right way — as if any of those practices are going to make Him listen harder or understand better.
Assuming someone prays the prayers we've suggested as starters, there may be little left for us to say. If one's heart is true to the Kingdom and turns to the Lord Jesus in a devotion to prayer, then He will become the Teacher of one's life. He is the only Teacher (Matthew 23:8) — and He has all the answers.
However, assuming that any are eager, there are many examples of topics for prayer in the New Testament especially — but also the Old Testament. Read the Scripture and find them, such as in Ephesians 6:18-19,
18 With every prayer and request, pray at all times in the Spirit, and with this in view, be alert with all perseverance and every request for all the saints, 19 and pray in my behalf, that speech may be given to me in the opening of my mouth, to make known with boldness the mystery of the gospel
Paul commands us to pray at all times for others and to be "alert with all perseverance" in this matter. We desperately need one another's prayers — even our personal enemies need our prayers. If only we could all agree to stop focusing so much on our own hurt feelings and focus instead on praying for those who hurt our feelings, we will be a good few steps on the way to the Kingdom. Remember, acting on hurt feelings is a selfish desire. Act only on the good of the Kingdom and forgive all who hurt, that we in turn may be forgiven. Pray for the saints — pray for your enemies.
Paul also commands the Ephesians to pray on his behalf that he may speak the gospel with all boldness. Likewise, we must pray with all diligence that the gospel be spoken and revealed to all.
The last thing we will touch on with this topic is our attitude toward prayer in "personal" desires, or things which are bothering us which are not necessarily Kingdom related. Paul says in Philippians 4:6-7,
6 Do not be anxious about anything, but in everything by prayer and pleading with thanksgiving let your requests be made known to God. 7 And the peace of God, which surpasses all comprehension, will guard your hearts and minds in Christ Jesus.
Paul says to always pray with thanksgiving — why is that? If only our hearts are focused on the Kingdom, our God will give us far more than we can comprehend and He will sustain us all throughout our lives. If our hearts are not materially minded, than we should only have thanks in our heart. We should not approach God with an attitude that we deserve anything. However, make a request known — if indeed it is not materialistic — and if He grants the request, that is great. If not, He has only good intentions toward us, so we win either way. Simply be thankful — no matter what happens. 1 Peter 5:6-7 says,
6 Therefore humble yourselves under the mighty hand of God, so that He may exalt you at the proper time, 7 having cast all your anxiety on Him, because He cares about you.
Indeed, He certainly does care, and just because He doesn't answer a request does not mean that He doesn't care. Rather, we do not understand what is truly good for us — so we should not question His judgement. We must humble ourselves before Him — casting our anxieties on Him — as He is unfailing and true.
PRAY WITH ONE MIND
The beauty of this topic is that it is not dependent on any one particular doctrine. It simply asks the question: Do you care about the Kingdom of God? We hope that no matter where anyone finds themselves in their doctrine and beliefs that the answer to that question will be an emphatic "yes."
If the answer is indeed "yes," we then encourage you to begin to pray. Start small and know the journey the Lord promises — "if anyone hears [His] voice and opens the door, [He] will come in to [them] and will dine with [them]." (Revelation 3:20) We would like to reiterate the point one last time: Just make sure your heart is for the Kingdom of God and not any kingdom of men or fleshly desire.
When we are devoted to the Lord Jesus in prayer, we all come to sit at the feet of the Great and Only Teacher. The Lord's truth is an objective and immovable truth we all must come to — and we will come to it only if we continue to ask Him for it. We are all at different places in our journeys, but if we all come to the Lord Jesus for our teaching — instead of following after our own desires — then He will inevitably bring us all to the same place — His truth.
Therefore, let us all pray with one mind in the Spirit — each asking for the promises made by the Lord Jesus and the refinement which He offers that we all may be partakers in the Kingdom. We have confidence that everyone who shares that desire — no matter where they are in their journey — and seeks the Kingdom in prayer — will meet us there one day.