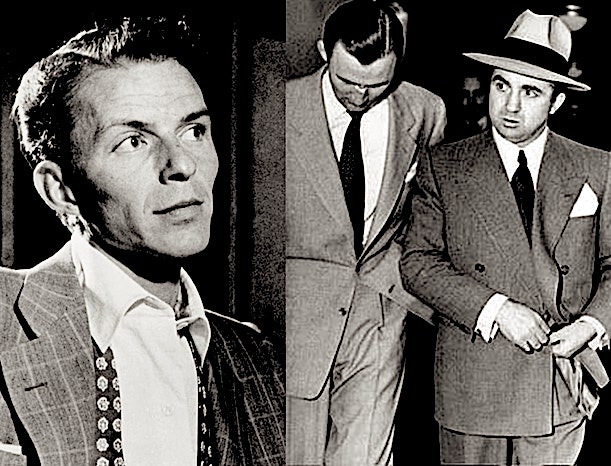 (Israellycool) Had it not been for his connections with the Jewish mafia — specifically his cozy relationship with Jewish mobster, Mickey Cohen — Frank Sinatra might otherwise have been a footnote in Hollywood history. In the late 1940s, Sinatra's career as a singer had stagnated — his fame had begun to fade after leaving Tommy Dorsey's band, when Cohen took Sinatra under his wing and used his significant clout in Tinseltown — and then in Las Vegas — to turn Sinatra into a "legend," but that fame came with a price, and Cohen would want something in return — which Sinatra was more than willing to give:
Francis Albert Sinatra may have been one of America 's most famous Italian Catholics, but he kept the Jewish people and the State of Israel close to his heart, manifesting life-long commitments to fighting anti-Semitism and to activism on behalf of Israel.

Sinatra stepped forward in the early 1940s, when big names were needed to rouse America into saving Europe's remaining Jews, and he sang at an "Action for Palestine " rally (1947). He sat on the board of trustees of the Simon Wiesenthal Center; and he donated over $1 million to Jerusalem 's Hebrew University, which honored him by dedicating the Frank Sinatra International Student Center.. (The Center made heartbreaking headlines when terrorists bombed it in 2002, killing nine people.) As the result of his support for the Jewish State, his movies and records were banned in some Arab countries.

Sinatra helped Teddy Kollek, later the long-serving mayor of Jerusalem but then a member of the Haganah, by serving as a $1 million money-runner that helped Israel win the war. The Copacabana NYC nightclub, which was very much run and controlled by the same Luciano-related New York mafia crowd with whom Sinatra had become enmeshed, "happened to be" next door to the hotel out of which Haganah members were operating.

In his autobiography, Kollek relates how, trying in March 1948 to circumvent an arms boycott imposed by President Harry Truman on the Jewish fighters in Eretz Yisroel, he needed to smuggle about $1 million in cash to an Irish ship captain docked in the Port of New York . The young Kollek spotted Sinatra at the bar and — afraid of being intercepted by federal agents — asked for help. In the early hours of the morning, the singer went out the back door with the money in a paper bag and successfully delivered it to the pier.

The origins of Sinatra's love affair with the Jewish people are not clear but, for years, the Hollywood icon wore a small mezuzah around his neck, a gift from Mrs. Golden, an elderly Jewish neighbor who cared for him during his boyhood in Hoboken, N.J. (years later, he honored her by purchasing a quarter million dollars' worth of Israel bonds). He protected his Jewish friends, once responding to an anti-Semitic remark at a party by simply punching the offender. Time magazine reported that Sinatra walked out on the christening of his own son when the priest refused to allow a Jewish friend to be the godfather. As late as 1979, he raged over the fact that a Palm Springs cemetery official in California declared that he could not arrange the burial of a deceased Jewish friend over the Thanksgiving holiday; Sinatra again — threatened to punch him in the nose.

Sinatra famously played the role of a pilot in Cast a Giant Shadow, the 1966 film filmed in Israel and starring friend Kirk Douglas as Mickey Marcus, the Jewish-American colonel who fought and died in Israel's war for independence (Sinatra dive-bombs Egyptian tanks with seltzer bottles!) He donated his salary for the part to the Arab-Israeli Youth Center in Nazareth, and he also made a significant contribution to the making of Genocide, a film about the Holocaust, and helped raise funds for the film. Less known is Sinatra in Israel (1962), a short 30-minute featurette he made in which he sang "In the Still of the Night" and "Without a Song". He also starred in The House I Live In (1945), a ten-minute short film made to oppose anti-Semitism at the end of World War II, which received an Honorary Academy Award and a special Golden Globe award in 1946.
Jonathan Marshall's book Dark Quadrant: Organized Crime, Big Business, and the Corruption of American Democracy goes into great detail how Jewish mafia figures from all over the United States used their ill-gotten wealth and power to give the Zionist Jews all the weapons they needed to ethnically cleanse Palestine.
In fact, the non-profit "charity" — Americans For Haganah — was led by none other than Abraham Feinberg — a key figure in the Jewish underground effort to steal weapons-grade uranium from U.S. manufacturers to supply the illegal nuclear weapons program at Dimona in Israel, all done under the watchful eye of the FBI.
Americans For Haganah literally gave Jews in the U.S. sizeable tax deductions to support both the terrorist Haganah group in Palestine — but also Israel's illegal nuclear program.
Key figure in the JFK assassination — Jack Ruby — was also involved in illegal gun-running for Israel at the behest of his crime boss, Meyer Lansky, who was instrumental in funneling huge amounts of mafia money — literally suitcases of cash — from Vegas casinos into Israel.
And it's surely a "coincidence" that Mickey Cohen and Frank Sinatra arranged for JFK to meet Marilyn Monroe — an indiscretion that was no doubt used to leverage favors from the White House, such as putting the kibosh on any investigations and indictments of Jewish mafia figures involved in gun-running for the Haganah.
And while the story of Sinatra wearing a mezuzah from Mrs. Golden around his neck is quaint, it surely doesn't explain his "love affair" with the Jewish people.
More likely Sinatra understood Jewish power early in life — his parents ran an illegal tavern during Prohibition by paying off the police and procuring their booze from the mafia.
Sinatra's own mother had a criminal record — and when she wasn't selling illegal booze, she fronted as a "mid-wife" who performed back-alley abortions for profit — and became known in the neighborhood as "Hatpin Dolly."
Abortion — a decidedly Jewish mitzvah — would become a way of life later on for the long-married Sinatra when he procured two abortions for the "love of his life," his mistress, Ava Gardner — perhaps with the help of his close friend Mickey Cohen.