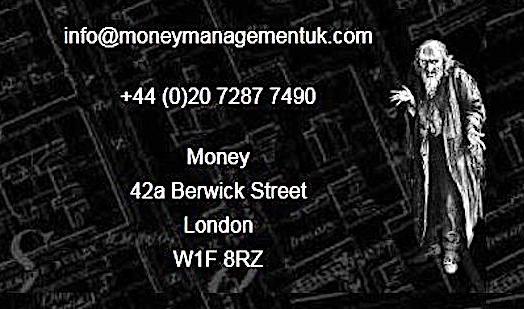 Francis Ridley, the Jewish head of Money Talent Management, has found himself in hot water for defending his agency's use the the Jewish character "Fagin" from Oliver Twist to promote his company's name:
Danny Stone, chief executive of the Antisemitism Policy Trust, had accused Money Talent Management of using a "grotesque antisemitic caricature" by clearly displaying the image of the fictional character from Charles Dickens' Oliver Twist novel alongside the firm's name and address.

The use of a shrivelled Jewish character as the villain of Oliver Twist has long sparked debate over antisemitism in the novel. And the same Fagin image as the one used by Money Talent Management was recently offered for sale at an auction as part of a lot titled "Antisemitism & Nazi Propaganda".

But in a statement, Frances Ridley, the director of Money Talent Management, said: "I am a third generation Holocaust survivor. From Auschwitz to Terezin my family experienced the brutality and finality of antisemitism.

"Doesn't make me unique. Just fact.

"So this story is not just wrong but also deeply hurtful."

Addressing his company's use of the Fagin character, Mr Ridley said: "Well quite simply I grew up watching Oliver! starring (((Ron Moody))) as Fagin on television. (Mr Moody studied at the London School of Economics at the same time as my father which probably made it resonate even further).

"And I have loved the musical throughout my life and Fagin's song 'You've Got To Pick-A-Pocket Or Two' seemed apposite for our Soho-based talent agency many years ago.

"A song composed and a musical written by the Jewish Lionel Bart……."
So there you have it folks, a Jew claiming to be a Holocaust survivor even though he was born twenty years after World War II ended.
And notice he didn't say, "My grandparents were Holocaust survivors."  No, he said, "I'm a third generation Holocaust survivor."  What an incredible rhetorical sleight of hand.
First they claimed to be 'miraculous' Holocaust survivors, and then their children claimed to be 'second generation Holocaust survivors,' and now their grandchildren are jumping on the bandwagon as 'third generation Holocaust survivors.'
But don't worry, this claim is completely legit, according to jewish 'experts'.
Notice how the new 'aristocracy' that rules over us all claim to be blood descendants of 'Holocaust survivors'.
They know the original survivors will all finally be dead within the next twenty years or so, and this is how they will reproduce from the grave: multi-generational Holocaust survivors.
Just watch: as if on cue, Jews all around the world will start using this misleading terminology to identify themselves, but hardly anyone will have the courage to challenge them on it.
And those who do dare speak up will be smeared and shamed as 'neo-Nazis'.