The US government carried out its first execution in 17 years on Tuesday, putting to death convicted murderer Daniel Lewis Lee, a white supremacist who tortured a family of Jewish descent to death:
In 1996, Lee, 47, and accomplice Chevie Kehoe were convicted for the murders of William Frederick Mueller, his wife Nancy Ann Mueller and his 8-year-old stepdaughter, Sarah Elizabeth Powell, who lived in Searcy County, Arkansas. While Lee was handed the death penalty, Kehoe was sentenced to life imprisonment.

Lee's execution by lethal injection had been due to take place in Indiana at 4 p.m. local time on Monday, July 13, but was stayed after a last minute ruling by a US District Court in Washington. Issuing her injunction, Judge Tanya Chutkan had said Lee and other condemned men were likely to succeed in their legal challenge arguing that the single drug used in the lethal injection, the barbiturate pentobarbital, would cause an unconstitutional degree of pain and suffering.

However, the Supreme Court disagreed, ruling that the four death row inmates bringing the case, including Lee, "have not established that they are likely to succeed" in their legal challenge, in part because barbiturate pentobarbital has become a "mainstay of state executions."

At 2:10 a.m. the Supreme Justices voted 5-4 to clear the way for federal executions to resume, ruling that Lee and other condemned men's challenges to the execution protocol did not justify "last-minute" intervention by federal courts. "Last-minute stays like that issued this morning should be the extreme exception, not the norm," the Supreme Court wrote in its ruling.

Lee was pronounced dead at 8:07 a.m. EDT (1207 GMT), US Bureau of Prisons spokeswoman Kristie Breshears said by phone.

Asked if he had any last words, Lee is reported to have said "I didn't do it. I've made a lot of mistakes in my life, but I'm not a murderer. You're killing an innocent man."

Lee was found guilty of a number of offenses, including three counts of murder in aid of racketeering, on May 4, 1999. The court heard how Lee and Kehoe tortured the family, including Sarah, to get them to reveal the location of gold and other valuables, before being suffocated and thrown into the Illinois bayou. Their bodies were found five months after their deaths.

Both Lee and Kehoe admitted to being part of a white supremacist group; Kehoe was reportedly raised within the Christian Identity movement, which holds that Jews are the children of Satan, and that whites are the true Israelites, and was known to frequent Elohim City, an Aryan Nation separatist compound in Oklahoma, where he met Lee.

The year before the murders, Kehoe had burgled the Mueller home, stealing a large cache of guns and ammunition from William, a gun-dealer, in addition to cash. That same year, he and another man had also robbed and kidnapped a couple, Malcolm and Jill Friedman, breaking into their home and stealing $16,000. The couple, who were Episcopalians, were told by Kehoe that they were targeted because their surname sounded Jewish, according to the New York Times.

According to the Southern Poverty Law Center, Kehoe founded the Aryan Peoples Republic with the plan to cause anarchy through burglary and murder which would eventually lead to the establishment of America as a white-only country, a plan which he involved Lee in, leading to the Muellers' murder.
Daniel Lee was clearly a mentally unstable psychopath — and given his membership in Aryan Nations, which is up to its eyeballs with Federal informants, it wouldn't be surprising if Lee had been on their radar long before his murderous crime spree.
That said, his case, hot on the heels of the BLM riots, provides the perfect public relations move to announce which type of criminals the Federal government wants to make an example of — not just murderers, but White supremacists.
Lee isn't the first misguided 'White supremacist" or "White Nationalist" who thinks that he and like-minded compatriots can somehow bring about a White America again through mayhem and crime — and unfortunately he won't be the last.
America is no longer White because White Americans turned on their televisions and turned away from Christ in the early 1950s.
The televisions in every home in America have taught White Christians to embrace Jewish 'values' — such as socialism, abortion, multiculturalism, holocaustianity and homosexuality — and then we complain that our nation has become degenerate.
God was very clear in Deuteronomy 28 how He would punish us if we turned away from Him — and He has done all the things He promised — He kept His word — which is proof that we are His children because He punishes only His own.
White Nationalists and White Supremacists cannot and will not save America from the punishment now being meted out by God's hand –He will protect us from the machinations of the Jews only when we, as a people, turn back to Him:
32 Thy sons and thy daughters shall be given unto another people, and thine eyes shall look, and fail with longing for them all the day long: and there shall be no might in thine hand.

33 The fruit of thy land, and all thy labours, shall a nation which thou knowest not eat up; and thou shalt be only oppressed and crushed always…

37 And thou shalt become an astonishment, a proverb, and a byword, among all nations whither the LORD shall lead thee…

43 The stranger that is within thee shall get up above thee very high; and thou shalt come down very low.

44 He shall lend to thee, and thou shalt not lend to him: he shall be the head, and thou shalt be the tail.

45 Moreover all these curses shall come upon thee, and shall pursue thee, and overtake thee, till thou be destroyed; because thou hearkenedst not unto the voice of the LORD thy God, to keep his commandments and his statutes which he commanded thee.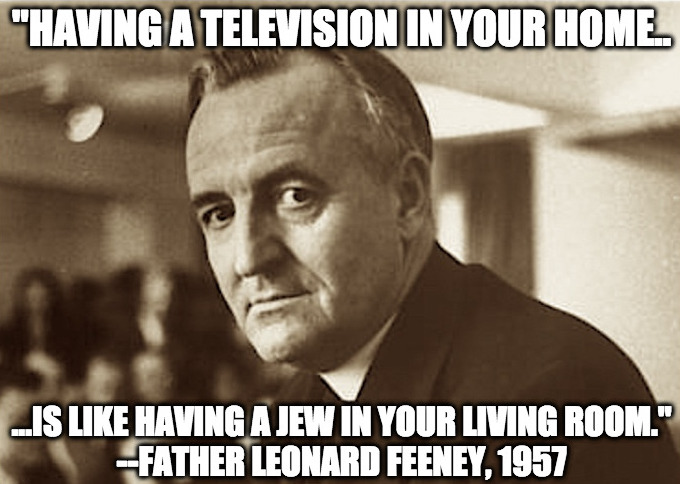 Listen: "The Alien Invasion of America Is A Judgment From God" by Sheldon Emry
Part 1 of 4:
Part 2 of 4: