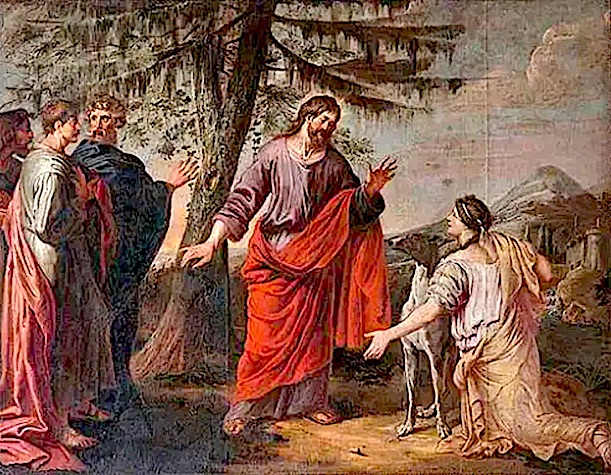 Here we continue with another chapter from Charles A. Wiseman's book Is Universalism Of God? — this time his chapter on "racial exclusiveness" in the Bible.
Even some universalists will begrudgingly admit that in the Old Testament, God most certainly favored only one people — those 12 tribes who came forth from the seed of Jacob-Israel.
However, in a bizarre twist in logic, those same universalists will turn around and claim that God changed his mind when "the Jews" rejected Christ. Apparently, this so surprised and upset God that He decided to "chose" or reward anyone merely for believing in his Son, Jesus Christ.
This theory or dispensational doctrine hinges on John 1:11, which most "judeo-Christian" universalists have memorized:
"He came unto his own, but his own received him not."

John 1:11
But their ministers never read the verse that follows — John 1:12 — which clearly states many Israelites did, in fact, receive and accept Jesus Christ:
"But as many as received him, to them gave he power to become the sons of God, even to them that believe on his name: Which were born, not of blood, nor of the will of the flesh, nor of the will of man, but of God."

John 1-12
Why would God change his eternal promises to Israel just because some — a small minority — of Israelites in Judea rejected His son as the promised messiah?
This universalist doctrine also completely ignores the fact that the vast majority of Israelites were not even in Judea at that time — they had lived dispersed among the nations after the Assyrian captivity — and, over many centuries — 700 years — most of them had lost their identity as Israelites — just as the prophets predicted they would.
But did God's racial exclusiveness toward Israel carry over into the New Testament? Did God really change His mind about with whom He would have an everlasting covenant — and what people therefore are even eligible to be redeemed by Christ? [To redeem something, it must have previously been your possession — therefore, redemption can be applied only to Israel.]
These are some of the questions that Charles Weisman addresses here:
Racial Exclusiveness in the Bible
There is a major theme or concept within the Bible which most fear to think about. Some ignore this concept, others deny it, and many even hate it and will adamantly argue against it since it conflicts with their indoctrination or personal beliefs. This major theme of the Bible is God's exclusive dealing with a certain people or racial group.
Some will acknowledge the concept of a "chosen people" only because they erroneously think that Israel rejected Christ — and so God has turned and "adopted" them — [despite] being non-Israelites — as His people. But if God was — and remains today — racially exclusive, then the main core of the theology of Universalism is groundless.
From the very beginning of history God had stated that He was mainly interested in one specific lineage of people — and would be a God only to them and their descendants [posterity] and not to any other people. The beginning of the Bible lays the foundation for many of the themes, concepts and principles that follow, including its racial exclusiveness and the non-universal nature of God.
The beginning (Genesis) states these postulates in regard to God's relationship to a specific seed, bloodline, or "race" of people.
These verses and many more tell us that God was going to have certain dealings with a specific people. He would multiply them, have a covenantal relationship with them, bestow material blessings upon them, give them land, protect and deliver them from harm, love them, and be their God.
The reason [for this relationship] is not because these people were good, great or godly, not because they would accept Jesus in their heart, not because they were religious, but because they were of a particular seedline, a certain heritage or race. It is apparent that one's lineage is very important to God. One might even say God has an obsession with genetics and genealogy, or that He is racially minded.
Gen. 9:9 — And I, behold, I establish my covenant with you [Noah], and with your seed after you.

Gen. l2:7 — And the LORD appeared unto Abram, and said, Unto thy seed will I give this land.

Gen. 13:16 — And I will make thy seed as the dust of the earth.

Gen.17:7 — And I will establish my covenant between me and thee [Abraham] and thy seed after thee in their generations for an everlasting covenant, to be a God unto thee, and to thy seed after thee.

Gen. 21:12 — For in Isaac shall thy seed be called.

Gen. 22:17 — And thy seed shall possess the gate of his enemies.

Gen 35:11 — And God said unto him [Jacob], I am God Almighty: be fruitful and multiply; a nation and a company of nations shall be of thee, and kings shall come out of thy loins.

Gen. 26:4 — And I will make thy seed to multiply as the stars of heaven.

Gen. 28:14 — And in thee and in thy seed shall all the families of the earth be blessed.

Gen. 45:7 — And God sent me [Joseph] before you to preserve you a posterity in the earth, and to save your lives by a great deliverance.

Gen. 48:4 — I will make of thee a multitude of people; and will give this land to thy seed after thee for an everlasting possession.
If someone wanted to know if [the God of the Bible] would bless them, deliver them, or be their God, they would have to answer the question, "What is your genealogy?" This is important because God never said He would do these things for any people or racial group other than Israel. That God's relationship, blessings and promises would follow a particular seedline is a hard pill for many to swallow. But this theme of God's racial exclusiveness continues on throughout the entire Bible.
The chosen seedline is known as [the twelve tribes of] Israel — or the Israelites — and they are the only people that are God's people:
Deut 4:37 — And because he loved your [Israel's] fathers, therefore he chose their seed after them.

Deut 7:6 — For thou art an holy people unto the LORD thy God: the LORD thy God has chosen thee to be a special people unto himself, above all people that are upon the face of the earth (and Deut. 14:2).

Deut 10:15 — The LORD delighted only in thy fathers, to love them, and he chose their seed after them, even you above all people, as it is this day.

Deut 32:9 – For the LORD's portion is his people; Jacob is the lot of his inheritance.

Num. 6:27 — And they shall put my [God's] name upon the children of Israel; and I will bless them.

2 Sam. 7:23 — And what one nation in the earth is like thy people, even like Israel, whom God went to redeem for a people to himself.

I Chron. 16:13 — O ye seed of Israel his servant, ye children of Jacob, his chosen ones (and Psa. 105:6-10).

Psa. 78:5 — For he [the LORD] established a testimony in Jacob, and appointed a law in Israel, which he commanded our fathers, that they should make them known to their children.

Psa. 135:4 — For the LORD has chosen Jacob unto himself, and Israel for his peculiar treasure.

Psa. 147:19-20 — He shows His word unto Jacob, His statutes and his judgments unto Israel. He has not dealt so with any nation.

Isa. 41:8 — But thou, Israel, art my servant, Jacob whom I have chosen, the seed of Abraham my friend.

Isa. 44:1 — Yet now hear, O Jacob my servant; and Israel, whom I have chosen.

Isa. 45:25 — In the LORD shall all the seed of Israel be justified, and shall glory.

Isa. 65:9,23 — And I will bring forth a seed out of Jacob, and out of Judah an inheritor of my mountains: and mine elect shall inherit it, and my servants shall dwell there….For they are the seed of the blessed of the LORD, and their offspring with them.

Jer, 31:1 — At the same time, saith the LORD, will I be the God of all the families of Israel, and they shall be my people.

Amos 3:2 — You only [Israel] have I known of all the families [races] of the earth: therefore I will punish you for all your iniquities.
The God of the Bible did not love, know, choose, elect, or have any dealings, covenants or inter-relationships with any other racial group on the planet like He did with Israel. The phrase, "God of Israel" is used 200 times in the Bible, but we never see God's named attached to any other people.
He is never called the God of the Hittites, Amorites, Philistines, Canaanites, Edomites, or Midianites. Likewise, the God of the Bible is not the God of the Chinese, Japanese, Africans, Eskimos, Polynesians, Indians, Cubans, Mexicans, Hindus, Arabs, or Egyptians. Why? Because they are not Israelites. An Amorite or Canaanite could not claim to be the chosen of God and receive His blessings merely because they chose to recognize and obey Him. God chooses on His own who will be His people. It is not strictly a personal choice.
The concept of a chosen people continues with the New Testament. God still has an "elect, whom he has chosen" (Mark 13:20), and gathers together (Matthew 24:31). Christ told His followers that He has chosen them, not vice versa:
"Ye have not chosen me, but I have chosen you, and ordained you, that ye should go and bring forth fruit, and that your fruit should remain: that whatsoever ye shall ask of the Father in my name, he may give it you."

Johan 15:16
Paul proclaims in Ephesians 1:4,5 that God "has chosen us in him before the foundation of the world." Those who would be God's people and Christians were predestined by God before they were ever born (Romans 8:29,30). Those "that are with him [Christ] are called, and chosen, and faithful" (Rev. 17:14). Who are these "chosen" and "elect" of Christ? They are of Israel.
[Many verses from] the New Testament reveal that it was indeed written about this particular seedline:
Luke 1:68 — Blessed be the Lord God of Israel; for he hath visited and redeemed his people.

Matt. 1:21 — And thou shalt call his name JESUS: for he shall save his people from their sins.

Luke 1:54-55 — He [God] has helped His servant Israel, in remembrance of his mercy; As He spoke to our fathers, to Abraham, and to his seed for ever.

Matt 2:6 — For out of [Bethlehem] shall come a Governor, [Jesus] that shall rule my people lsrael.

Matt 15:24 — I [Jesus] am not sent but unto the lost sheep of the house of Israel.

John 1:49 — Thou [Jesus] art the King of Israel.

Acts 13:17 — The God of this people of Israel chose our fathers.

Acts 26:6-7 — The hope of the promise made of God unto our fathers: Unto which promise our twelve tribes, instantly serving God day and night, hope to come.
Christians say they are "adopted as sons" and are "New Covenant Christians" [merely] because they believe ["in Jesus"]. Paul clearly states that those who are God's people — and to whom pertains the adoption and the covenants — are "Israelites according to the flesh" (Romans 9:3-4). Peter in writing to the dispersion of Israel states,
But ye are a chosen generation, a royal priesthood, an holy nation, a peculiar people; that ye should show forth the praises of him who has called you out of darkness into his marvelous light.

(1 Peter 2:9)
Christians think that they are chosen because they believe, but cannot point to one verse that states such an idea. Christ states that those whom God has chosen are the ones who believe (John 6:44,65). The New Covenant was not the end of God dealing with a particular seed, since that Covenant was with a particular seed — Israelites:
"For finding fault with them, he saith, Behold, the days come, saith the Lord, when I will make a new covenant with the house of Israel and with the house of Judah:"

Hebrews 8:8
God did not make a New Covenant with a line of "spiritual Israel," but rather a physical seed, [a fulfillment of Jeremiah 31:31]:
"Behold, the days come, saith the LORD, that I will make a new covenant with the house of Israel, and with the house of Judah"
People can choose whether or not they will serve and worship the God of the Bible — or follow His laws — but they do not choose to make Him their God by doing so. They cannot force God to choose them, or to change His plans, or make them a part of a covenant, or become a "seed" of Abraham.
In every religion that has ever existed, they all have one thing in common — and that is that the people pick or choose the god they will have. But with the Bible and Christianity, God chooses the people He will have, and rejects others, even though they have acknowledged Him — and claimed to "believe in him":
"Not every one that saith unto me, Lord, Lord, shall enter into the kingdom of heaven; but he that doeth the will of my Father which is in heaven."

Matthew 7-21-23
God will love some and hate others just based on who they are — not on what they have done:
"As it is written, Jacob have I loved, but Esau have I hated. What shall we say then? Is there unrighteousness with God? God forbid. For he saith to Moses, I will have mercy on whom I will have mercy, and I will have compassion on whom I will have compassion. So then it is not of him that willeth, nor of him that runneth, but of God that sheweth mercy"

Romans 9:13-15
To the humanistic mind this is a horrible and outrageous concept. But those who deny the concept of racial exclusiveness in the Bible are either very ignorant [or corrupted by racial egalitarians of the modern world]. This clearly is an issue which divides the believers from the deceivers of God's word.
How do the universalists, humanists and egalitarians get around this blatant fact of Scripture? They simply find some verses that are worded in a general sense, without specifying the Israel people, and will then say, "See, anyone can be God's people. " As for all the verses that do specify the exclusiveness of Israel they are either ignored, or it is said that they are nullified by the general statements. This desperate and illogical reasoning is the basis for much of their "Christianity."
Since most [judeo-Christian universalists] want to get around God's racial exclusiveness, they have to create a universal God who either breaks His word or arbitrarily changes His mind. Some Christians will even assert that God never chose Israel on the basis of race, but Scripture continually shows that He did. It shows that God loved a certain racial lineage (Deuteronomy 7:8;10:15; Jer. 31:3).
Since racial exclusiveness in terms of who are God's people is a major theme of the Bible, those who deny this fact — or argue against it — must fabricate and substitute their own doctrines, or misinterpret Scripture to fit their [egalitarian] humanistic theology.