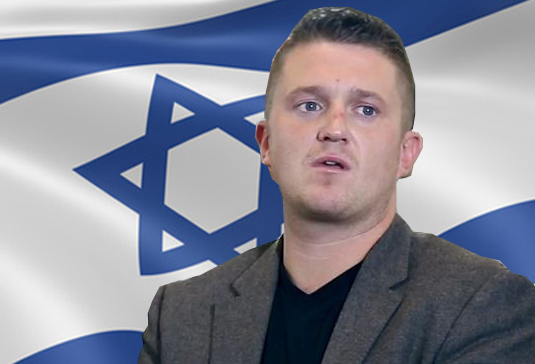 The British news site, The Guardian, revealed the results of an investigation they conducted into the funding behind activist Tommy Robinson, and not surprisingly, most of it is jewish:
The Guardian looked into Robinson's global support after he was jailed for filming outside a rape trial involving defendants of mainly Pakistani heritage at Leeds crown court. He was released on 1 August after the court of appeal ordered that he should be retried. The attorney general is deciding whether to proceed with a retrial.

The investigation has established that:

-A Philadelphia-based thinktank, the Middle East Forum (MEF), acknowledges it has spent about $60,000 (£47,000) on Robinson's legal fees and demonstrations staged in London earlier this year. A senior MEF executive has been closely involved in preparations for this weekend's march, though the thinktank said she was there in a personal capacity.

-A US tech billionaire, Robert Shillman, financed a fellowship that helped pay for Robinson to be employed in 2017 by a rightwing Canadian media website, the Rebel Media, on a salary of about £5,000 a month.

-A small Australian rightwing group, Australian Liberty Alliance, says it has helped fund Robinson, but did not disclose how much.

-A New York City-based thinktank, the Gatestone Institute, has published a succession of articles supporting Robinson's cause.

-The David Horowitz Freedom Center (DHFC), a California-based thinktank that describes itself as a "school for political warfare", has published a series of pieces defending Robinson, and has lobbied for him to address US politicians.

Horowitz, the co-founder of the DHFC, told the Guardian in an email: "Tommy Robinson is a courageous Englishman who has risked his life to expose the rape epidemic of young girls conducted by Muslim gangs and covered up by your shameful government."

MEF, Gatestone and the DHFC are well funded by influential rightwing donors, according to tax returns scrutinised by the Guardian. In 2014-16, the returns show they received a total of almost $5m from several millionaire donors.

MEF received $792,000 from a foundation led by Nina Rosenwald, the co-chair of American Securities Management, once dubbed "the sugar mama of anti-Muslim hate".

"…Radical Islam is the problem and moderate Islam is the solution," the MEF president, Daniel Pipes, said in an email. "MEF fights for the right to discuss Islam and related issues in free, robust, open and public debate."
Surely it must be an oversight on the part of the jewish-controlled Guardian not to point out that all of these 'right wing' Tommy Robinson backers are jewish and/or pro-jewish.  Given the rise in popularity of nationalism, the Jews are working night and day to co-opt any 'right wing' movement to make sure it doesn't start asking The Jewish Question, and Tommy Robinson has proven to the Jews that he's more than willing to take their thirty pieces of silver in exchange for pretending that the Jews aren't behind the intentional destruction of England and Europe using Muslims as a weapon.
Even the obscure group Australian Liberty Alliance won't touch The Jewish Question but concentrates its efforts on bashing the symptom (Muslims) and not the cause (Jews).  And it's hard not to notice that the president of MEF is Daniel Pipes, an arch neo-con and dual citizen of Israel who helped orchestrate the 9-11 attacks on behalf of Israel, and blame it all on Muslims.  Why are these powerful Jews promoting and supporting an obscure, inarticulate working-class Brit like Tommy Robinson?  What exactly are they getting for their money?
---
How jewish "neo-con" interests tried to take over the BNP:
---
Tommy admits he's a Zionist: