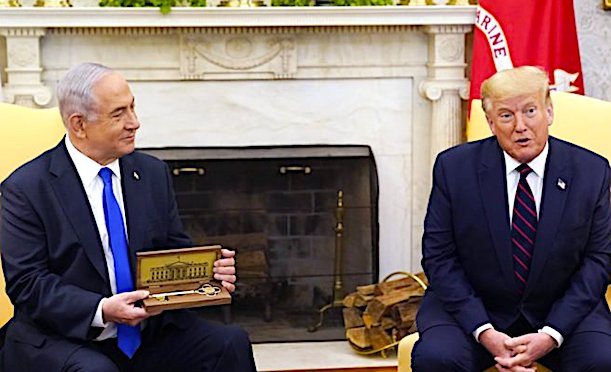 On Tuesday, President Trump presented Israeli Prime Minister Bibi Netanyahu with a "ceremonial" gold key to not only the White House, but to the entire United States of America and the "hearts" of Americans, too:
TRUMP: (A ceremonial gold key is presented.) This was a special token of affection, given by myself and the First Lady to the Prime Minister and the First Lady of Israel. And it's a key — we call it a key to the White House. And it's a key to our country and to our hearts.  And you've been an amazing leader for a long period of time. And this is — this is, in many respects, the big day, because this is something that's very special.

We just left UAE and Bahrain. We're going to meet outside in a ceremony. And it's just a very important event. And it's an honor to have you with us, Bibi. Thank you very much.

NETANYAHU: Thank you, Mr. President. And I have said — and this is true — that you have the key to the hearts of the people of Israel because of all the great things you've done for the Jewish State and the Jewish people. So, thank you. Thank you.

TRUMP: Thank you very much. Fantastic. And we look forward to being outside.

Q Mr. President —

TRUMP: Yes, please. Anybody?

Q Mr. President, this is a great event — this is a great event and these are tremendous achievements.  Can you — we know that Israel is getting a lot. What is Israel giving back for this —

NETANYAHU: This is the Israeli press that wants to chip away at this…
There is an element in Israel that believes their country has become far too dependent on the U.S. — and believes that with American aid to the tune of billions every year come strings and obligations.
But nothing could be further from the truth — Israel gives back nothing to the U.S. for its generosity except for a major terror attack every now and then.
On 9-11, Netanyahu could barely stifle his excitement after the success of the attacks, blurting out that the attacks were, "It's very good!" Then realizing his blunder, he mumbled, "Well, not very good, but it will generate immediate sympathy."
That is, sympathy for the devil.
Any political candidate that runs for office in the U.S. must agree that any aid to Israel is given unconditionally — that is, if they want to get elected.
But, of course, this gold key presentation is a mere formality — 30 years ago, former presidential candidate Patrick Buchanan declared that Capitol Hill was already de facto "Israeli occupied territory".
And now 30 years later, not only is Capitol Hill "Israeli occupied territory" but apparently so is the entire U.S.A. and the "hearts" and minds of the American people.
And all this is made possible because the vast majority of Christians in America have been duped into believing that Jews are "God's chosen people" rather than the Khazar that they are.